More Russians find military service appealing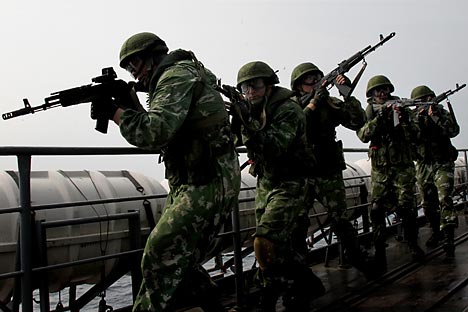 Russia hopes to have half of its troops serving under professional contracts by 2022. Source: RIA Novosti
A growing number of young men are considering a career in the armed forces as ongoing reforms look to make the military rely more on professionals under contracts rather than conscripts.
A recent survey by the All Russia Center for Public Opinion (VTsIOM) shows that more than half of Russians would approve of a close relative pursuing a career in Russia's armed forces.
This number is up dramatically from 2010, when only 36 percent of Russians considered the military a respectable career for their family members.
The percentage of respondents who agreed with the statement that military service is "a pointless waste of time that should be avoided" has slightly decreased over the past four years, from 18 percent to 16 percent.
Valentina Melnikova, the executive secretary of the rights group Committee of Soldiers' Mothers, said that the change in attitudes can be partially explained by the ongoing reform in the Russian military to rely more on professional soldiers who enlist under contracts rather than conscripts.
"Those who serve under contract love it in the army. They are paid well and entitled to days off. As for conscripts, the situation is quite different. It may be so that the pollsters' questions were too general: the Russian army is heterogeneous, making it difficult to compare the service conditions of enlisted men and officers."
Russia hopes to have half of its troops serving under professional contracts by 2022. Currently about a quarter of Russian troops are professional contract soldiers.
Military expert Vladimir Dvorkin noted that the appeal of a military career could vary depending the region in which respondents live.
"Unemployment is quite high in the regions, so young men agree to serve. By contrast, very few residents of Moscow or St. Petersburg would fancy joining the army. We should remember that opinion polls are not an exact science," Dvorkin said.
According to VTsIOM, 53 percent of respondents would be happy for their relatives to serve in the army. However, only 32 percent of people between 18-34 share this view, possibly because men between the ages of 18-27 are still subject to conscription.
The Russian military needs to sign up approximately 300,000 conscripts during each of its two annual drafts to keep the number of troops at 1 million. "At present, the Russian military has 82 percent of the required manpower," said Defence Minister Sergei Shoigu at a press conference in December.
All rights reserved by Rossiyskaya Gazeta.