Boss, father, tsar or slave driver?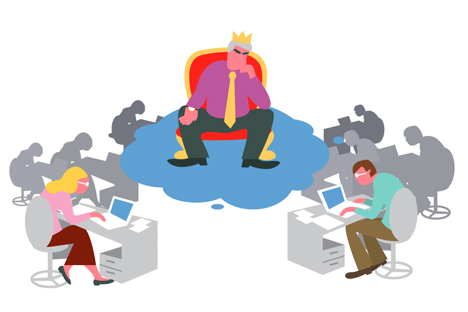 RBTH has collected data from the largest Russian recruiting companies, spoken with employees of a range of corporations with different outlooks and made a list of the main distinctions of Russian corporate culture.
CEO of Dell Russia Boris Shcherbatov, remembering the early 1990s, says that he hoped that a new class of highly educated managers with a Western way of thinking would sweep away all the Soviet-style managers and that this would completely change the Russian economy.
"But the Russian corporate model differs seriously from the one which is taught in universities and business schools," says Shcherbatov. "Being a leader in Russia is a one-man show. In order to be successful here, you need to know the right people. Trust is the most important thing, and the delegation of authority is a bad example of management. Those who understood this have already quickly made both a career and a fortune."
The most important aspect of any corporate culture is the hierarchy and relationship style between bosses and their employees. In many Western companies (even large corporations), it is common for there to be a fairly liberal approach in communication between bosses and employees. The managing director is the first among equals; there are plentiful opportunities to approach him directly about new ideas, with complaints, or anything else.
In Russia, the head of a company must aspire to sit as high as he can above his subordinates. He is by no means the same worker; he sat down in his chair as the rightful boss, and what was entrusted to him (a branch of a corporation, a department, a team) is now his patrimony and property. And this applies to the authorities at any level whatsoever. Only the sky is higher than your boss, well, or maybe his own boss. The managing director should be separated from all of his employees by a great number of echelons: deputies, deputies of deputies, secretaries and multiple reception areas.
The leniency permitted by bosses to subordinates resembles the treatment of a father to his children, like a generous donor to freeloaders. Such a model heavily bureaucratizes the system. And yes, it is mainly due to the specific cultural features of Russian society. But despite the fact that subordinates often make fun of their bosses, and that Russian bureaucracy and the image of such managers are the butt of constant jokes, if a boss starts behaving differently he will simply not be the boss any longer. This is not even to do with the qualities of a person, but because of practiced behavioral patterns. And anyone who takes on a managerial post is obliged to implement the social paradigm which prevails in any given society.
"Our boss has instantly put everything in order," says an employee of a major consulting company, "once during one of our regular meetings, he suddenly stood up and said, 'well, that's enough, I do not need employees who can only agree to anything I say. I want everyone to tell me the truth right to my face – even if they will later be fired for it.' Very clever."
Another employee of the same company recalls his boss's power of persuasion: "Me and my boss have always had a fruitful exchange of views: Whenever I came to him with my personal opinion, I afterwards left with his opinion."
Regardless of the effectiveness of managing skills which, in many cases, employees really do admire, a boss in Russia, according to an anonymous survey portal Superjob.ru, will always be seen as a "slave driver" (who makes you work overtime), "a penny pincher" (who does not increase salaries), "an idiot" (who does not see what for the subordinates is as clear as day), or "lazy" (of course, because only the subordinates actually work). Nobody will say it to the boss's face, but it is an indispensable topic of discussion among the staff. Anyone who does not support such views, is, a priori, "a fawner" or, even worse, "a snitch."
<<< Read the previous story | Read the next stoty>>>
All rights reserved by Rossiyskaya Gazeta.