Russian language proficiency made compulsory for migrants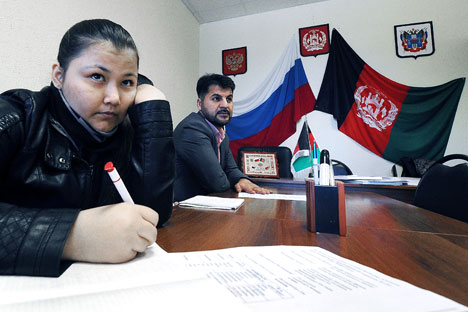 There are currently 190 testing centers in Russia and abroad that issue Russian language certificates. Source: ITAR-TASS
Highly skilled professionals get a special exemption from a new law that comes into effect on January 1, 2015.
On Monday, President Vladimir Putin signed a law on mandatory Russian language exams for migrants. Exceptions to the law will only be made for highly skilled professionals. In response, a representative of the Tajik diaspora lamented the lack of language education centers for migrant workers in Russia.
The new law will go into effect on January 1, 2015. The law requires all migrants, with the exception of highly skilled professionals, to pass a Russian language exam. According to the law, all aliens applying for a residence permit, a temporary residence permit, or a work permit must prove a working knowledge of the Russian language, as well as knowledge of Russian history and local laws by providing relevant documentation, RIA Novosti reported.
If the applicant is unable to provide an education certificate issued in the USSR prior to September 1, 1991, he or she will have to pass an exam in Russian and obtain a certificate.
The federal law also defines categories of foreign nationals who are exempt from the requirement to verify Russian language skills, knowledge of Russian history, and knowledge of the legal system.
Those exempt from the examination include highly qualified specialists, legally incompetent citizens, minors (under 18 years), as well as members of the Russian state program that provides voluntary resettlement assistance to compatriots living abroad.
Another law that requires all foreign labor migrants employed in the housing, commerce, and service sectors in Russia to pass a Russian language examination went into effect on December 1, 2012. To obtain or renew work permits in Russia, migrants who work in these sectors must prove a basic working knowledge of Russian. All applicants must have documented proof of their language skills.
In January of this year, it was reported that over 18,000 workers have confirmed their knowledge of the Russian language by obtaining language certificates.
There are currently 190 testing centers in Russia and abroad that issue Russian language certificates. Over 340 organizations in Russia, the CIS, and other countries provide testing services.
Muhammadnazar Mirzoda, chairman of the Somonien Association of Friendship between the Russian and Tajik Peoples and honorary consul of Tajikistan in St. Petersburg, stated in conversation with a correspondent from Vzglyad that he supports the law.
"There really are a lot of migrants who do not speak Russian. We also run into problems when we need to draw up and sign documents for them," he complained.
Mirzoda also noted that Tajikistan still uses the Cyrillic alphabet. In this sense, learning Russian should be much easier for Tajik migrants.
In light of recent developments, Mirzoda supports the creation of a large network of language education centers in Russia that would function with support from consulates of former USSR republics, as well the establishment of cultural centers.
First published in Russian in Vzglyad.

All rights reserved by Rossiyskaya Gazeta.