Russian martial arts experts to train Mumbai policewomen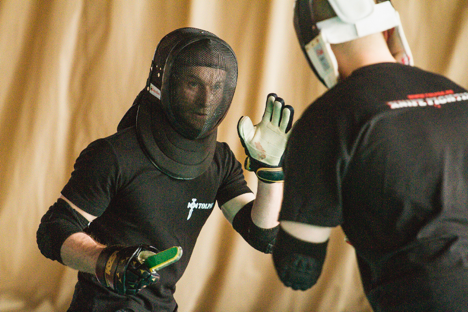 Tolpar is believed to be the world's largest school devoted exclusively to knife fighting and has 22 certified instructors in 20 cities in 7 countries. Source: Tolpar knife fighting school
Lady constables will be trained in Tolpar, a knife-fighting technique that traces its origins back to the KGB Special Forces officers.
35 women constables from the Mumbai Police will be trained in the Tolpar knife-fighting technique by a team of Russian martial arts experts, The Times of India reported on Monday. The Russian team will also train female marshalls who guard the ladies compartments on Mumbai local trains, the paper added.
The Tolpar school was officially registered in Russia in 2003 and started its first group training that year, according to the school's website. Tolpar knife fighting technique "began life in 1985 with help from Soviet KGB Special Forces officers," the school's website says, adding that at that time the technique was not available to public.
Tolpar is believed to be the world's largest school devoted exclusively to knife fighting and has 22 certified instructors in 20 cities in 7 countries, including Italy, Israel, Estonia, Latvia and the UAE. The school has a team of professionals highly experienced in coaching and practicing knife fighting, who have proven the efficiency of the Tolpar technique for the last 25 years in competitions and real life situations, the school says.
"Tolpar comes handy when a personnel loses his/her gun," an activist from Mukti, an NGO that uses women marshalls for the local trains, told the Times of India. "The knives are small and female cops can carry them in handbags." Four male supervisors working for the NGO will also train under the Russian martial art team, the paper added.
"The Russian team conducts Tolpar training sessions globally for police as well as army. It would be a great opportunity for female personnel to train under this team," the paper quoted Mukti founder, Smita Thackeray, as saying.
Violent crimes against women in Indian cities have been making headlines since a university student was murdered after a brutal gang rape in Delhi in December 2012. Mumbai, which is believed to relatively safe for women, has also witnessed a spate of attacks.
All rights reserved by Rossiyskaya Gazeta.