Anti-Semitism at minimal levels in Russia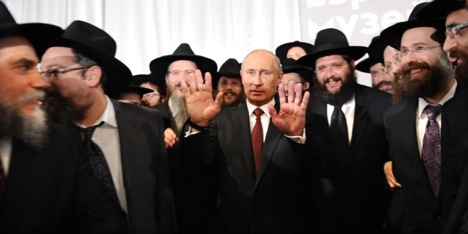 Vladimir Putin at the Jewish Museum and Tolerance Centre in 2013. Source: AFP / East News
The US, UK, France and Canada all witnessed more violent attacks on Jews than Russia, according to a report published by the Tel Aviv University's Kantor Centre.
Russia remains in the group of countries with a minimum level of anti-Semitism, said the head of the European Jewish Congress, Vyacheslav Moshe Kantor, commenting on the results of the annual report on the level of anti-Semitism in the world for 2013. The report was made public last week at the Kantor Centre in the Tel Aviv University.
"Russia is far behind in the league, in terms of the number of anti-Semitic manifestations – anti-Semitism in Russia is latent and dormant," said Kantor.
He noted that in other countries, including Western Europe, "the quality of anti-Semitism" is changing. "Its manifestations have become more harsh and provocative. Anti-Semitism is becoming more common, a subject of everyday occurrence," he said.
According to the research centre, which is headed by Kantor, in 2013 Russia recorded 15 cases of "violent anti-Semitism", while in Ukraine there were 23 cases. For the reporting period, in France there were 116 similar incidents, in the UK – 95, in Canada – 83, and in the in the U.S. – 55.
"No one is sowing anti-Semitism in Russia. This is my opinion as the President of the European Jewish Congress," noted Kantor, in answering reporters' questions.
Allegations of anti-Semitism have been levelled against each other by Russia and the interim government in Ukraine. "Both sides are using anti-Semitism" to tarnish the other," the Kantor Centre's Irena Cantorovich told reporters. Leaders from Ukraine's Svoboda party and the Right Sector have made inflammatory statements against Jews on the record.
Jews make up around 0.16 percent of the Russian population, according to the census conducted in the country in 2002. There were around 1.5 million Jews in the Soviet Union in 1989 and a vast majority of them immigrated to Israel and later to the United States. Around a million ethnic Russian Jews live in Israel and the community is believed to have played a key role in building diplomatic relations between Russia and their adopted home.
Based on an article published in Russian by RIA Novosti.
All rights reserved by Rossiyskaya Gazeta.