Hopes and fears of Indian students in Crimea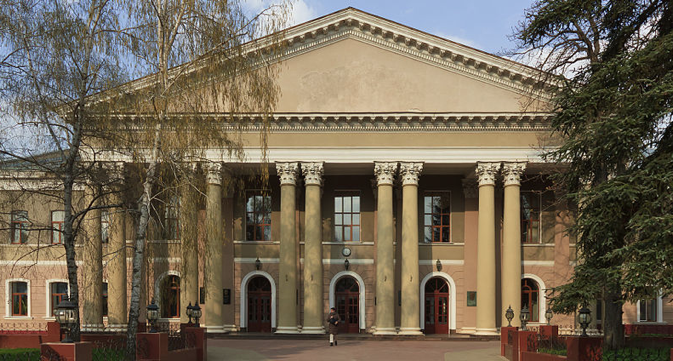 The building of the Crimea State Medical University in Simferopol. Source: A. Savin / wikipedia.org
After Crimea joined the Russian Federation, Indians pursuing medical studies in the peninsula await clarity about the future of their education.
About a thousand Indian students are enrolled at the Crimea State Medical University (CSMU) that is in the process of aligning with the Russian educational standards. It is life as usual at the campus with class schedules and hostel life feeling unchanged. However a significant change has actually occurred. These students who came with Ukrainian visas are now residing in Russian territory and the degree that they will receive at the end of their courses will be from Russia and not Ukraine as they had planned. Despite assurances from the university and the migration services, many students remain in a state of flux as clear-cut directions are yet be announced.
The Indian student community in Crimea has mixed feelings about coming under Russian education system. Some hoping to seek work in Europe after completing studies are feeling at a loss while others who wish to return to India for work have more or less a neutral stance. The latter are aware that as per Medical Council of India they'll have to appear for a screening test in order to pursue medical practice in the country whether they have a degree from Russia or Ukraine. The former group fears that Western European and American universities might derecognize the degrees offered by Crimean universities. Such students are frantically looking for transfers to other Ukrainian universities despite the fact that Crimea is currently peaceful. "It is absolutely safe here and the situation is calm," says Mehbob Islam, a first year student, "I wonder how safe it is in Ukraine, though I've not heard of any disturbance from my friends in other universities."
The possibility of transfers also depends on students' contracts with their respective educational consultants. All students from India are enrolled with CSMU via contracts through private agencies that are authorised to represent and promote the university. In fact many students hope that under Russian administration this arrangement will improve, "Contractors interact with the university regarding financial matters such as fees. Hopefully now there will be more transparency in their dealings," says Mehbob.
Most of the students express confidence in the quality of teaching at the university and expect that it can only get better. "During Soviet times, CSMU was considered to be the third best in Russia. There are hopes that the lost glory will be restored," says Soham Bhattacharjee, a second year student. "Students from many countries are here and not just the Indian embassy but all embassies of other countries are also encouraging their people to continue here," he adds. Patrick Royson, who is pursuing dentistry, he says that, "Our teachers are very happy that the university is a part of Russia now. In fact they tell us that we shouldn't consider going elsewhere as Russian education system is the best."
There is much speculation regarding the changes that will be introduced, especially about the medium of teaching being changed from English to Russian. "I signed a contract for English medium for six years, so I expect to be taught in English," says Mehbob, "the dean has said that there wouldn't be many changes but it will be another month till everything is finalized." While definitive plans are worked out, the Minister of Education and Science of the Russian Federation, Dmitry Livanov, has stated the vision for development of education in Crimea, "A set of particular measures to develop the educational system of the Republic of Crimea will be implemented by various departments of the Russian Federation. Priorities of this work will be teachers' training, retraining of teachers and gradual introduction of the single state exam for students. In 2014, additional budget places in universities will be created for the Crimean school graduates," Livanov announced at a forum organized at the Boris Yeltsin Presidential Library in March.
While the intended reforms are of wide-ranging and long-term nature, those in third and final years of medical study face immediate concerns. They don't know who would be conducting the mid-term and final exams that are usually held in May. The final year students are unsure about how their degrees will be processed and thereby received in India or elsewhere.
Another pressing concern is about the visa status of the Indian students. The consular section of the Russian Embassy in Delhi had earlier assured that visa formalities will be taken care of in due course of time. The exact process has not yet been clarified and it is causing differing notions to emerge. A set of students say that they've been told to procure visa from their countries. These students who are already troubled by the fluctuating currency and an increased cost of living can't bear an additional expense of returning to India just to set their papers straight. On the other hand, some students are patiently waiting for a more feasible solution, "I believe that the Russian Government will take care of this. The migration services had asked us to submit copies of our papers and hopefully this issue will be resolved before vacations," says Mehbob.
As Crimea settles down into the new system, there are people who are hoping for the best while for others a greater degree of clarity would soothe their fears.
All rights reserved by Rossiyskaya Gazeta.