Leading Russian universities open their doors to students from India
11 Russian universities participated in the exhibition. Source: RCSC
The tenth annual edition of the Russian education fair was held last week in Delhi, Kolkata and Chennai.
The 'Russian Education 2014' exhibition was held last week at the Russian Centre of Science and Culture (RCSC) in New Delhi. Young Indians interacted with representatives of leading higher education institutions from different regions of Russia.
The event was organized by RCSC in collaboration with Rus Education India, which promotes Russian higher education in the country.
11 universities participated in the tenth edition of the exhibition: Tver State Medical Academy, National Research University, Gubkin State University of Oil and Gas, Kazan Federal University, Southern Federal University, Kuban State Technological University, Tomsk National Research Polytechnic University, Kazan State Medical University, Volgograd State Medical University, Orenburg State Medical Academy and the Bashkir State Medical University.
The exhibition moved to Kolkata on May 8, and on May 10 and 11 – in Chennai.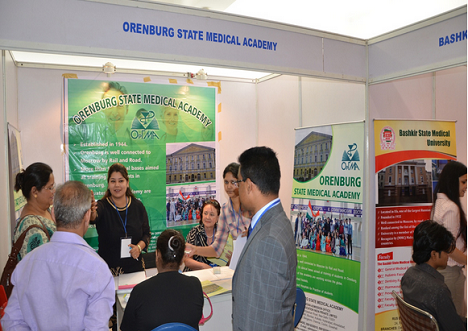 Source: RCSC
Tatiana Perova head of the Training Centre of the RCSC said, "India's cooperation with Russia in the field of education has a long history…many Russian universities have extensive experience in teaching Indian students." She added that the number of Indian students in Russia is constantly growing.
Head of Rus Education India Professor Syed Kamruzzaman, who is also the Associate Dean for International Students at Tver State Medical Academy, told RIA Novosti that "the exhibition's primary objective is the promotion of Russian education in India, attracting Indian students and cooperation between our countries in the field of culture."
"The event will promote harmonization between Russia and India, the establishment of contacts between people," Kamruzzaman added. "It is worth noting that today in the Russian Federation, there are more than five thousand Indian students, and about a thousand students arrive every year. This year, for example, we are expecting more than a thousand students, most of them of course, will be doctors, but there will also be many students from technical colleges."
The idea of getting a degree in Russia has always been attractive to the talented Indian youth. Russian universities are considered to be among the best in the world, with their tuition costs being much lower than those in the universities of the US and European countries. About 90 percent of Indian students in Russia are enrolled in the medical faculty. Most of the other students are in engineering or technical courses.
First published in Russian by RIA Novosti.
All rights reserved by Rossiyskaya Gazeta.