Source: Elena Pochetova
Muscovites now have the opportunity to study the languages spoken in the home countries of the majority of Russia's immigrants, thanks to the opening of a special school at Muzeon Park that teaches Tajik, Uzbek, Kazakh, and Moldovan. A correspondent from Gazeta.ru found out what motivates Muscovites to learn these languages.
"Come in, my dear, come in!" Navruz Gulzod says to a latecomer. "Hush omaded. Nuri dida. Tozi sar. Welcome! Light in the eyes, crown on your head. This means that when I see you, I feel like I'm going blind."
Gulzod has been the head of the Center of Tajik Language and Culture at Moscow State Linguistic University, where he teaches Tajik to Russian students, for the past two years. His main place of work is the Tajik State National University, where he teaches Tajik, Persian, and calligraphy.
On top of all this, he now teaches at the School of Migrant Languages. Four nights a week, 15-40 people gather at the School Pavilion at Muzeon Park to learn foreign languages. The school offers courses in languages spoken by migrant workers, including Moldovan, Uzbek, Kazakh, and Tajik.
Olga Zhitlinaya, an artist from St. Petersburg, originally came up with the idea for the school. Her vision was to create an art project in which Muscovites could learn languages spoken by migrant workers over the course of just a few classes. The idea was later transformed into a cultural project.
The most popular language at the school is Tajik, the most exotic of all the languages the school offers. Gulzod was taken by surprise when forty people showed up to the first lesson.
"I have no idea how to teach them. Forty people! At my university, I teach groups of about six to seven people. If they learn the basics, I will be happy," Gulzod says. "Tajikistan was part of the USSR for 70 years. The Russians who lived there never learned Tajik, because all of the Tajiks spoke Russian."
The least popular language turned out to be Kazakh, with only 15 people showing up for the course. "Apparently, we do not perceive Kazakh to be a foreign language. We also have Tatar and Bashkir, which are similar. Besides that, everybody in Kazakhstan speaks Russian. Those who showed up to learn the language are either 'Russified' Kazakhs or people who are planning to go to Kazakhstan and want to show off a phrase or two," says Veronika Sergeyeva, the curator of Muzeon's educational program.
The auditorium is packed for the second Tajik language class. Gulzod spends half of his time joking around, but manages to explain Tajik verb conjugation and tenses as well.
The majority of students who show up for the courses are people who need to know a language for work. Another group of people consists of citizens of Moldova, Uzbekistan, Tajikistan, and Kazakhstan who have been living in Russia for a long time. These are people who know the language at an elementary level but cannot read or write and hope that the program will help. "Another group is comprised of liberal-minded citizens for whom studying a minority language is a kind gesture of tolerance," Sergeyeva says.
The average age of the students is 25-35, with the youngest being 15, and the oldest almost 70. Some students attend classes in all four languages.
Yevgeny Kochkin needs to learn Tajik for his job. He is a research fellow at the RANEPA Research Center of Migration and Ethnicity and only recently returned from Tajikistan, where he worked for a whole year. During his visit, he never learned how to speak Tajik. He hopes that he will be more successful at the school and wants to acquire basic language skills that he can use for work and personal interactions.
Sergei, another student, works as a consultant for Migrant Services, a company that helps foreigners obtain work permits and licenses. He is one of the students who attend classes in all four languages.
Learn Russian with us:

Artyom, a historian, has come to take classes for personal reasons. "I just want to learn a new language. Also, I want to know what migrant workers talk about, because there are a lot of them in Moscow," he says.
Migrant workers themselves have not attended any classes, although they did build the pavilion for the school. Sergeyeva has invited them to attend, but they laughed the offer off.
"Of course, these are lessons in tolerance of sorts, where you gain respect for other people's cultures by learning their language. We're not afraid of negative reviews, although there were a lot of those in the beginning. There were a lot of comments to the effect of 'we will all turn into Tajiks soon' and 'they should be the ones learning Russian' in the internet publications that announced our opening," the curator explains.
The school is planning to put together a lecture program in the near future, which will focus on examining how Russian culture has influenced the cultures of these four countries.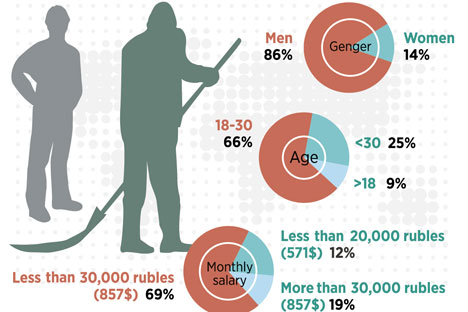 Click to enlarge the infographics. Drawing by Alena Repkina
Upon completion of courses, students will be asked to fill out surveys, in which they will get to evaluate the course and indicate whether or not they plan to continue learning the language. The classes will run until the end of July.
"We told the students ahead of time that it's not likely that they will be able to master the language by the end of the course. But by the end of the three months, they will know the basics needed for brief conversations and be able to communicate on an elementary level," Sergeyeva says.
First published in Russian in Gazeta.ru
All rights reserved by Rossiyskaya Gazeta.