Gifts that Russian women will not appreciate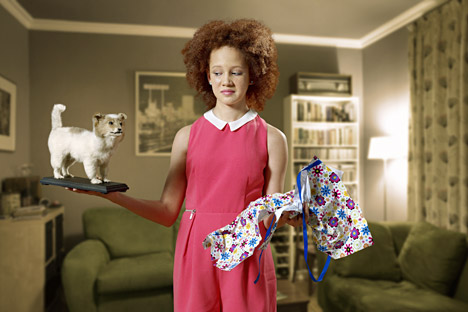 A present that Russian women find most irritating is a figurine. Source: Getty Images / Fotobank
When it comes to buying gifts for Russian women, take certain precautions and avoid some common gifts that annoy them.
Similar to the main character in Woody Allen's 'Vicky, Cristina, Barcelona' who said: "I don't know what I want, but I know what I don't want," Russian women may be too shy to tell their men that they want a ring or a pair of shoes for a present, but they are in no doubt as to what they would not want to receive as a gift. So once these options are eliminated, there is a fair chance that your present will be a success.
A present that Russian women find most irritating is a figurine. Anastasia says that once she even refused to accept a gift like that. "It was a statue of a frog in a strange pose with its fingers splayed. I was taken aback and for the first time in my life refused to accept a present, saying: 'Thank you very much, I don't want it, you keep it,'" she recalls. Viktoria points out that symbolic gifts only manage to collect dust. "I was once presented with a statuette of a black dog. I was even scared of it a bit," she says. While Alla recalls how once she was presented with a statuette of a dog covered in real fur and told: "Well, you collect kittens, don't you?"
Another present that is unlikely to go down well with a Russian girlfriend is a soft toy. Despite the sweet childhood memories that they may inspire, these presents too end up collecting dust. Darya believes that a soft toy may work as a present only for girl under 16. "I took heaps of those presents to a children's home, just to free some space in my flat," she says.
The third least wanted gift is a home appliance. On the one hand, they are useful but they will seldom charm a woman unless she has specifically asked to be presented with one. "Once my first husband gave me a vegetable slicer as a present. I was very much surprised by his choice. But then we spent an hour having fun with slicing different vegetables and in the end I sat on it by accident. Luckily, no-one was hurt but I never used that appliance again," recalls Natalya.
Russian women would not be too pleased to get a bar of soap, or bath salts or towels as a present, but you might get away with an expensive set of nice bed linen. Slippers are not a very good gift idea either.
The fifth place on the list of least wanted presents is occupied by different gadgets. On the one hand, if your significant other likes mobile phones and you know which model she would like to have, feel free to ignore this advice. But still most women would consider a present like that to be too practical. "I don't like it when men give different gadgets or home electronics as a present. It is very practical but is never romantic," says Yulia. "I was once given an energy storage device for various electronic appliances. It is a useful thing for hikers and for those who have many business trips. But in my case it was completely useless," says Anna.
Another present that Russian women would not be too ecstatic to get is a gift card. That is because a present is mainly about personal attention, while a gift card does not offer much of that. Maya says that to her a gift card suggest "go and buy everything yourself, I can't be bothered or I don't have time to think of what you might like."
Another type of a not very welcome present are clothes, unless you are a professional fashion stylist familiar with all her likes and dislikes.
A pet given as a present is bound to cause a lot of questions too. "Once my boyfriend gave me a hamster as a present. He had spent a lot of time choosing it and he wanted to please me. But he had no idea that I had some sad childhood memories associated with hamsters and I had no desire to look after it," says Marina.
Polls show that for most men flowers remain the gift of choice. According to Levada Center, 53 percent of Russian men would choose flowers as a present for a woman, while only 42 percent of women would be delighted by such a gift. The second most popular present are sweets (19 percent of men and 14 percent of women). The third most popular type of present are perfume and cosmetics (14 and 12 percent, respectively). Cash is preferred by 9 percent of men and 13 percent of women. Jewellery is chosen by 7 percent of men and would be appreciated by 13 percent of women. Other respondents mentioned home appliances, mobile phones, intellectual presents (theatre tickets, books), china, and some other options.
All rights reserved by Rossiyskaya Gazeta.