Kazan Federal University launches postgraduate scholarships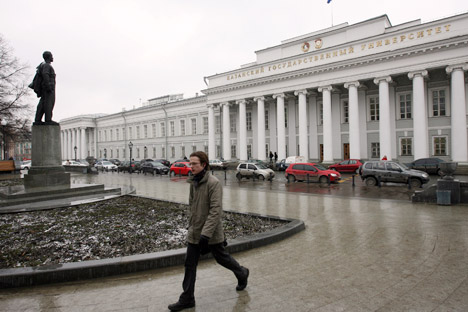 Main building of the Kazan Federal University. Source: Maxim Bogodvid / RIA Novosti
Eugenia Nureyeva, head of the postgraduate department at KFU, talks about the benefits of studying at the university and about who can qualify for a scholarship.
In May 2014, Kazan Federal University (KFU) launched a scholarship contest for those looking to enrol in post-graduate courses. The university will accept the most promising applicants from both Russia and abroad. The scholarship will cover the cost of tuition and, for non-residents, the cost of living in university accommodation. Eugenia Nureyeva, head of the postgraduate department, talks about the benefits of studying at KFU and about who can qualify for a scholarship.
What is the academic profile of a typical postgraduate student at KFU?
Postgraduate students are interested in academic research. As a rule, they already know at the undergraduate level that they want to help solve pressing problems in society. Their research activity, starting with written coursework, is practice-oriented — be it new methods of sociological research, pharmacological developments, or software. Often they have experience of presenting their work not only at internal university conferences, but at regional, national, and even international events.
Where are most of the KFU postgraduate students from?
Sure, the majority of postgraduate students are graduates of KFU and other Kazan universities. However, the walls of Kazan University are home to many young people from other regions of Russia, from Kaliningrad to the Primorye Territory (Russian Far East). Moreover, in recent years increasing attention has been paid to the development of international educational programs. Graduate students not only get a high-quality education at KFU, but also learn about foreign teaching methods. The number of foreign graduate students in our university is rising.
What are the benefits of studying at the KFU?
First of all, something should be said about the faculty. Besides our "native" academics with their impressive track records of participation in research projects, publications in leading Russian and global scientific journals, and good Hirch indexes, PhD holders from around the world are also involved in our research. Working under the guidance of world-renowned academics, graduate students gain invaluable knowledge. Another important advantage of KFU is the availability of top scientific journals in electronic format. All necessary information required to make progress can be had online. Students have access to all resources the moment they enrol. It's important to note that the university system is accessible not only from computers on campus, but via personal devices too.
And let's not forget about the university's existing and soon-to-open laboratories, all equipped with the latest technology. In addition, our students have no problems finding accommodation: for a symbolic fee, all non-resident students are provided with a cozy room in the Universiade Village complex or another KFU dorm. Culture and sport are also ingrained into student life here. There are clubs for all-comers, covering more than 30 sports. They all make use of the Bustan, Moscow, and KFU's UNICS sports facilities. I'd also like to note that the monthly stipend for postgraduate students in natural sciences is presently 6000 roubles. That's already close to a living wage.
What kinds of scholarships/grants are on offer?
Quite recently, KFU announced a scholarship contest for postgraduates entering the contract department. Let me reiterate that the grant offsets the cost of tuition and, for non-residents, student accommodation. The contest is open to students applying to enter one of KFU's priority fields of research: biomedicine and pharmaceuticals; advanced materials; oil production, oil refining, petrochemicals; information, communication, and space technologies. Even when the program was still being drafted, people were showing interest. We had many calls from Tatarstan and elsewhere in Russia.
How valuable is a post-graduate qualification the job market?
It is important to realize that having a university degree is a plus, not only in areas related to teaching or academic research, but in many other fields too. No one says that your employer will automatically give you a raise on finishing grad school. However, it is an indicator of competence. After all, the process of working on a research project teaches you to set goals, find solutions, develop time-management skills, and establish professional contacts. Sure, it's not just the piece of paper that matters, but the university that issued it. In that sense, KFU is a guarantee of quality for employers.
How many post-graduate students are enrolled at KFU?
In 2014, 231 students will begin government-financed courses — on a full-time basis. As regards the contract department, graduate students can choose to study full-time or externally. Courses are offered in 21 areas and 95 specialties. Admissions commence on June 30. Documents must be received by August 1. Admission tests will be held on August 11-27. Students can track the results on their personal accounts on the KFU portal. After publication of the results on August 28, postgraduate applicants will have until September 3 to replace document copies with the originals. A similar timeframe will be in place for scholarship applications. Requirements for documents can be found here.
All rights reserved by Rossiyskaya Gazeta.