Kazan alumnus in running for prestigious medical science award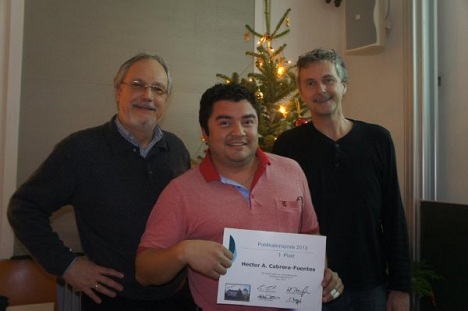 Hector Alejandro Cabrera-Fuentes (c). Source: Personal archive
Kazan Federal University graduate student Hector Alejandro Cabrera-Fuentes talks to RIR about the competition and his research interests.
The International Society for Heart Research is due to announce the results of its latest competition next month. Experts believe that one of the winners could be Kazan Federal University (KFU) alumnus Hector Alejandro Cabrera-Fuentes. He agreed to tell us about the competition and his research interests.
The interview took place during a short visit he made to Kazan. Alejandro now lives in Germany, working under the International Research Training Group 1566 Protecting the Heart from Ischemia (PROMISE) project, run by KFU and Libich University of Giessen with funding from DFG (Deutsche Forschungsgemeinschaft).
Alejandro, tell us first about the competition. How did your nomination come about?
To some extent, all my previous competitions were a precursor to this one. Last year, I was voted the best young scientist of the German Association for Atherosclerosis (Deutsche Gesellschaft für Arterioskleroseforschung eV), which nominated me for the title of best young scientist of the International Society for Heart Research. This year, I was nominated for the Hauss-Preis prize. I won, after which I gave an open lecture at a society congress. Lately I found out that the jury had put me forward for an International Society for Heart Research award. The finalists have already been selected, and I'm one of them. We have to present our scientific work at the 2014 Frontiers in Cardiovascular Biology Congress, which will be held in Barcelona in early July.
Which article on atherosclerosis attracted the attention of the scientific community?
It was titled "Role of Extracellular RNA in Atherosclerotic Plaque Formation in Mice," published in the Circulation journal. It was given an impact factor of 15.2 and considered cutting-edge in the field of heart research. To my delight, it was voted article of the year in Germany and received the 2014 W.H. Hauss-Preis prize, as I mentioned earlier. In this article we show and explain for the first time how extracellular RNA occurring during the development of atherosclerosis alters the normal function of macrophages.
Is ribonucleic acid set to become a panacea?
No, of course not, but my supervisor at Giessen University, Professor Klaus Preisner, who works with extracellular RNA, believes it has a crucial role in the inflammatory process. He is an internationally renowned scholar in the field of vascular biology, i.e. the study of blood vessels. We were the first to undertake a study of the mechanisms of atherosclerosis and infarction. My scientific work kept the same title, "Role of Extracellular RNA in Cardiovascular Formations."
These last three years I've been studying how extracellular RNA is released during primary death of heart cells and increases the intensity of cell mortality. My research goal was to study the molecular mechanisms of ischemia, i.e., the reduction of normal blood flow, and how to treat it.
What does the future hold?
After I defend my thesis, I'll be relocating to Cambridge in June-July. A team of scientists at the university there under Professor Martin Bennett, one of the world's leading experts in atherosclerosis, became interested in my research. Martin Bennett suggested I join his project with other researchers from England, Spain, Germany, Russia (Kazan, KFU), and the U.S. (Hawaii). We applied for and got a grant from the British Society for Cardiovascular Research. Now we have to implement it. We'll certainly be cooperating with KFU. The Markers of Pathogenesis and Means of Targeted Therapy Open Lab under Professor Olga Ilinskaya just opened there, in which we are directly involved.
It's nice to hear about your rapid start in the scientific world. What do you think made it possible?
My childhood dream was to go to a top school — Stanford, Oxford, Cambridge. Now this dream is coming true. In 2003 I came to Russia, afraid of everything, including the cold, but now I realize that my current success lies in the quality of education I got here in Kazan. It gave me the foundation to continue my studies. I became a good researcher in Germany, and two students have already defended qualifying papers under me (the main supervisor being Professor Klaus Preisner).
I consider my parents in science to be Professors Olga Ilinksaya and Klaus Preisner. Thanks to their advice and guiding hand in my fate, top global research groups are interested in me and want me in their projects.
All rights reserved by Rossiyskaya Gazeta.