Iranian postgrad students reflect on life in Kazan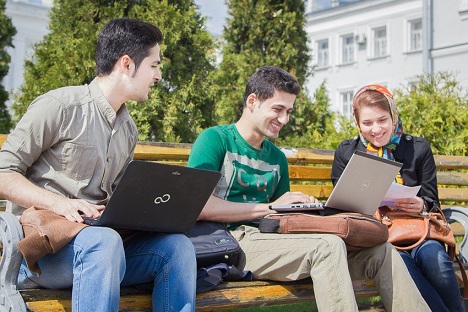 Iranian students in Kazan. Source: Inna Basyrova / Kazan Federal University
Scholarship awardees from Iran talk to RIR about student life and education in this ethnically diverse city.
Nemat Dabari and Hamid Malakh are second-year Master's students at the Lobachevsky Institute of Mathematics and Mechanics. Azadeh Derakhshanfer is in her first year of a Master's degree at the Institute of Physics. Interestingly, Azadeh came to Kazan with her husband, a student at Tupolev Kazan State Technical University. They talk to RIR about their experiences in Kazan.
How did you guys end up as students at Kazan Federal University?
Nemat
Back home we took a special exam and did well. We planned to continue studying in Iran, but then found out that the government was offering the chance to go abroad. KFU was suggested. We read up on Russia, Kazan, and KFU's proposal, and then decided to make the trip. That was in 2011.
What were your first impressions of Kazan?
Nemat:
It was my first trip abroad. It was spring, great weather. Bauman Street was the first road I saw. I was amazed. In these past 3 years my attitude to Kazan hasn't changed one bit. The next eye-opener was the incredibly friendly people. I still can't get used to it after 3 years!
How are things with accommodation?
Nemat:
The first year we lived in the Universiade Village. That was neat, and very plush. But then we were moved to an Old Campus residence, because that's where senior and Master's students live. We didn't like it much. Naturally we wanted to return to the Village.
Azadeh:
I'm married. As a family we had trouble getting a place in a hostel, so we now rent an apartment.
What else would you like to change about your life at college?
Nemat:
In our country students can have lunch and dinner on campus. Sometimes there's just no time to cook for yourself. It would be swell if they introduced that here. I know that Russian students can get food coupons. It would be good if we could too.
Do you get a chance to visit your homeland every now and again?
Azadeh:
Once or twice a year, at New Year or in summer.
Nemat:
Not last summer, I didn't want to miss the Student Games.
How did you like them?
Nemat:
The best! Only the Iranian team didn't do so well. The opening and closing ceremonies were superb, simply stunning. I didn't expect it. My friends in Iran watched it and they all said: "Your Kazan is a great city!" And I proudly responded: "And what, you thought it was a rough place?" By the way, about the city. It got a makeover before the Student Games, which turned out really nice.
What are your plans after the Master's program? Have you thought about continuing your postgrad studies?
Hamid:
We'd like to, of course. But it's hard to say, because it doesn't really depend on us, but on our government and the university.
What advice would you give foreign postgrads who want to come to Kazan?
Azadeh:
I'd advise them to do it, no question. But remember that Russian is a very difficult language and you need to get the basics down before arriving.
Hamid:
It's better to come with a Russian language certificate, and get it rubberstamped here. That way you won't have to spend a year in language class and can start your program straight away. I'd also say that Kazan is lovely. We've seen a few other cities in Russia, and Kazan is the best.
Nemat:
Studying Russian on arrival does have some plus points — you get real-life contact with native speakers. Russian is everywhere and you learn how to pronounce words correctly, which really helps.
Hamid:
But best of all is when classes are in English. Students arrive and start their specialist programs right out of the box, picking up Russian along the way.
All rights reserved by Rossiyskaya Gazeta.