Anna Larkina is 26 years old and has already been analyzing pornographic and erotic images and video for five years; this is a job that she receives a salary for. Thanks to the information content analysts like Larkina collect, a special program is able to recognize adult content on the internet and block children's access to it.
In addition to adult content, Larkina analyzes violent imagery and websites that promote drug use. "If a person is prone to moral degradation, then it is perhaps better they not get involved in this line of work," she says.
Art criticism and pornography
Larkina, who is an art critic by trade and studied in Marburg in Germany, as well as at Moscow State University, originally planned to become a photographer. While in school, she worked for a large internet company where she tracked various content. She then received an offer from anti-virus program developer Kaspersky Lab.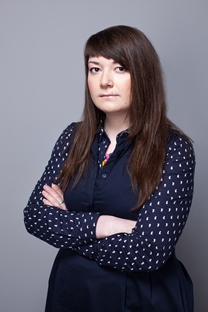 Anna Larkina. Source: Personal Archive
"They immediately told me that I would be working with pornography. I thought about it and then decided I wouldn't mind," says Larkina. "When I speak with job candidates now, as a rule I warn them about the type of work it is. The most important thing is to be ready for scenes that aren't even pornographic, but violent, because porn often presents shocking images. Dismembered bodies, cruelty – I still can't get used to it."
According to Larkina, the pornography part is the easiest part of the job; the images of the bodies are natural, and there is nothing ugly about them. However, she says that sometimes her colleagues shudder when they walk past her computer and ask, "Anna, oh my goodness. How can you watch this!"
Dangerous content even in the news
Larkina's work is necessary for the completion of the "Parental Control" program, which is part of the defense solutions package offered by Kaspersky Labs. It allows parents to limit their children's visits to certain sites, especially those with adult content.
"We have robots that go through and categorize internet sites. We teach these robots what to do. We feed them any information they have overlooked and provide them with information they did not know before, and they learn from that and begin to work even better," explains Larkina.
She uses an example from a Norwegian black metal song containing the line: "I dismembered a child and smeared the blood all over myself." Now the robot recognizes this song and can catch it.
These days even pre-schoolers can be exposed to inappropriate images by using their parents' laptops out of curiosity. They randomly click from site to site, and in the process, they sometimes come across sites with unsavory content or dubious offers.
"Porn sites are easy to catch. However, pictures of dead bodies or violence can be found even on sites that feature the news," says Larkina.
She recalls that her younger niece came across a site from one of the major television channels in Russia, where a photograph of a dead body appeared in one of the news segments. Frightened by the image, the child burst into tears.
Larkina is now working to teach the robots to find dangerous content even within news programs. Parents are able, depending on the age of their child, to decide if they will allow them to view the horrors of real life or prevent them from seeing scenes of war. They can also prevent them from viewing sites that promote drug use.
Larkina says that her friends understand the importance of her work. "Of course, the first time my friends asked, 'Anya, you must know the best porno sites! Give us a list!' They calmed down though, and now they even send me sites to check out," says Larkina.
"My mother is fine with my work now, but before she used to say 'How can you do it? Maybe pornography, but how can you stand to watch all that violence!' However, she came to understand its importance, and now she is even proud of me."
Now Larkina is working on the launch of a new product, which will include 70 categories of content in ten languages. "It will be possible to filter out not only violence, but violence specific to certain genres," she says. "For example: extremism, racism, uncensored language, suicide, hatred, and discrimination."
She explains that the lab has also expanded into different categories such as pornography, online gambling, alcohol, and others.
"Users will be able to choose which filters to turn on. This project is being supported by a company that wants to prevent its employees from using these sites. Thanks to this project, our parental control program has been perfected," says the content analyst.
Larkina has no reservations about continuing to work in the sphere of "adult content". "I very much love my job, and not because I watch pornography all day, but because I am able to have a real impact. The effects of my work can already be felt," says Larkina.
All rights reserved by Rossiyskaya Gazeta.