Student volunteers help tourists find their way in Moscow
This month, authorities in the Russian capital launched a service to help tourists navigate around the city's most frequented neighborhoods. A RIR correspondent tried it out.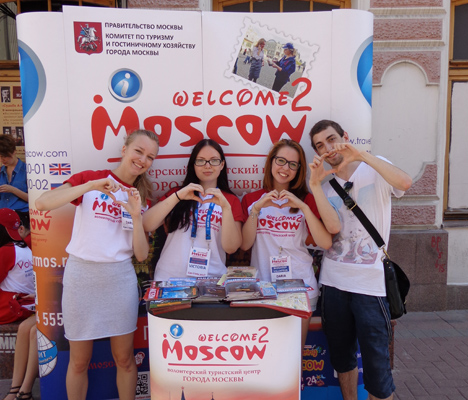 Welcome 2 Moscow. Source: Elliot Lelievre
Although Moscow has come a long way since the 1990s, getting around Russia's capital can still be a frustrating experience for many foreign tourists, who can find the Cyrillic signs, street plan and sheer size of the city disorientating.
However, city authorities have now unveiled a special project designed to make life easier for visitors from abroad. Launched on July 1, the initiative consists of student volunteers helping non-Russian-speaking tourists to find their way, pointing out bars, restaurants, museums and other useful services.
A small group of students is deployed on one of the streets that is most popular with tourists, in the Arbat neighborhood. Another team is at work nearby in the Alexandrovsky Garden. When I asked the students on the Arbat to point me toward some unusual bars, they advised me to wander the streets of the Chistye Prudy area, where I did indeed find bliss at the Rock'n'Roll Bar.
Easily recognizable by their sign and their red-and-white T-shirts proclaiming "Welcome 2 Moscow," these young people are enjoying an opportunity to practice their foreign language skills (they all speak English, and some speak French) and to meet people who come from all over the world to visit their city. "I'm studying hospitality, and in my field, English skills and interpersonal skills are vital. Being here allows me to improve in these two crucial areas," says Dasha, 19.
The smiling, welcoming and accessible squad consists of around 10 volunteers, mostly female, who are around 20 years old, speak better-than-serviceable English and join forces to give visitors the information they want. "We're here every day until 7 p.m. If it's not our team, it's another one, but we're here rain or shine," adds Lizon, the leader of the Arbat information stand.
"We modeled this initiative on what other cities in the country have been doing since 2012, so here we are," says Dasha. The service helps visitors to Moscow get information and find their way around even though the locals mostly speak limited English and the language barrier can be an obstacle.
The volunteers distribute various city maps that highlight the main sights, along with brochures describing other attractions, such as activities on the river, so that visitors can get an idea of what they can find in different places. These brochures are available in English and Chinese. In 2012, nearly 200,000 Chinese tourists visited Russia, compared to 150,000 in 2010 — according to the Russian Tourism Report, published by Stark Tourism, this was the biggest per-country increase in that period.
All rights reserved by Rossiyskaya Gazeta.