Updated: 20 dead, more than 100 injured in metro accident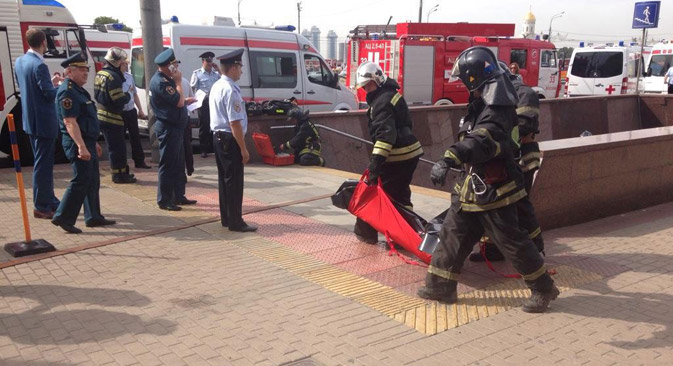 Officers of the Russian Ministry for Civil Defense, Emergencies and Disaster Relief and police officers near the Slavyansky Boulevard metro station. Source: RIA Novosti
Three train cars derailed in the tunnel between the Park Pobedy and Slavyansky Bulvar stations in western Moscow.
During rush hour in the morning of July 15, three train cars derailed between the Park Pobedy and Slavyansky Bulvar stations on the Arbatsko-Pokrovskaya line of the Moscow Metro. The derailment was caused by a sudden braking as a result of a drop in contact wire voltage.
One train car was seriously damaged. According to latest reports, the accident has claimed 20 lives and more than 100 people have suffered injuries.
An official statement on the Moscow metro website said there was smoke on the line before the cars came off the rail.
Source: YouTube
"There was smoke at the Park Pobedy station and contact wire voltage was turned off," the statement read.
Moscow emergency services officials confirmed the metro statement.
Approximately 120 passengers were injured and 106 have been taken to city hospitals. About a third of them are in serious condition, according to an emergency services official.
About 200 people have been evacuated from the metro.
Moscow emergency situations department spokesman Viktor Biryukov said earlier that an eyewitness reported sudden braking of a train on the Slavyansky Boulevard - Park Pobedy stretch at 8:39 a.m. Firemen arrived at the scene at 8:45 a.m.
A criminal inquiry is pending into the accident, Russian Investigative Committee spokesman Vladimir Markin told Interfax. "Detectives are working at the accident scene. A criminal inquiry is pending. A number of tests will be done to expose the causes of the accident," Markin said.
According to Russian news agency RIA Novosti, there have already been several major emergency situations in the Moscow metro in 2014, although none of them as severe. The most serious of these occurred on March 21, when flooding caused trains to stop running between the Shchelkovskaya and Partizanskaya stations in the east of the city. Emergency services personnel evacuated about 600 people and an employee of the Mosvodokanal city water agency died. Accodring to preliminary data, the cause of the accident was damage to a water main, caused by repair work going on above ground.
Before the July 15 derailment, the most serious accident in the Moscow Metro in recent years took place on June 5, 2013, when a power cable went out between the Biblioteka Imeni Lenina and Okhotny Ryad stations in the very center of the capital. As a result of the power outage, 4,500 passengers were evacuated and more than 50 injured.
This article was updated at 3:47 on July 15 to add new information.
All rights reserved by Rossiyskaya Gazeta.