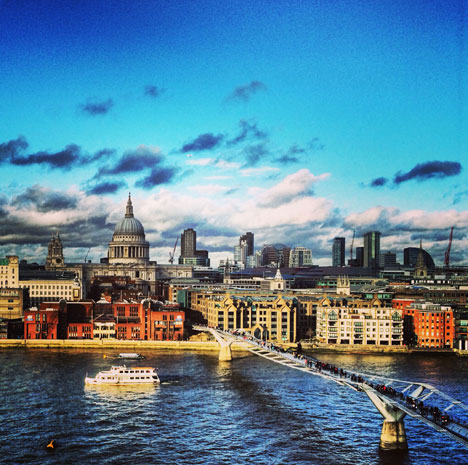 Anti-Russian sanctions have created difficulties with getting UK visas. Source: Getty Images / Fotobank
Russian visitors are spending considerably less in London than a year ago, according to Bloomberg, which cited a study by Global Blue, a leading operator in tax-refund points. "London seeks new spenders" capable of replacing the Russians, the news agency concluded.
When Mikhail Gorbachev celebrated his 80th birthday party in the lavish surroundings of the Royal Albert Hall in 2011, there were thousands of guests, most of them Russian, to see performances by Paul McCartney, Bono and George Michael, with Kevin Spacey and Sharon Stone acting as hosts. Even Queen Elizabeth II was expected to attend, but she was unwell.
Naturally, the party did not go unnoticed in Russia. Yet, reports from it focused not so much on the former Soviet leader whose birthday was celebrated as on the price of the tickets for the best seats, which reached £100,000. Those reports, however, failed to mention that there were tickets for the event at £75 too and most of the guests came to the Royal Albert Hall not in their Rolls-Royces but on the London underground.
That was a typical example of the distorted perception of "Russian London", based on the most famous of its inhabitants, several hundred super-rich people whose lifestyle and consumption habits are applied to the whole of the Russian community there. In fact, Russians' love affair with London consists of different narratives.
First Russians
Russians, mainly people with money, began arriving in London in the late 1990s, adding to the traditional local assortment of political emigres and descendants of White Movement veterans. In 1999, Boris Yeltsin's daughter Tatyana Dyachenko bought a cozy art deco house in St George's Hill, not far from London.
Roman Abramovich began quietly to explore England long before he bought Chelsea football club: by 2003, he already owned Fyning Hill, a 420-acre estate in the village of Rogate, and two luxury flats in London.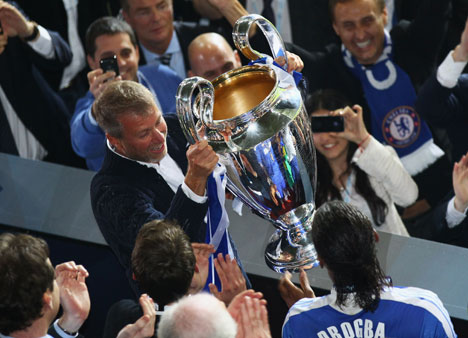 Abramovich celebrates Chelsea's win in UEFA Champions League in 2012. Source: Getty Images / Fotobank
At about the same time, the first Russian businessmen began to move to the UK, preferring a regular albeit moderate business there to chasing superprofits in Russia, surrounded by fierce competitors, corporate raiders and the Russian taxman.
However, it was the extravagant spending habits of Abramovich and his "followers" that created the first impression of "Russian London" both inside the UK and among Russians. That happened largely due to British tabloids and such, already "canonical", books as "Londongrad: From Russia with Cash" by Stewart Lansley and Mark Hollingsworth.
They were the first to tell their readers the now legendary tales of how once, while in Baku, Abramovich ordered sushi for lunch from the London restaurant Ubon, spending £40,000 on the order and its delivery; or of how Boris Berezovsky bought a £20.5 million estate, having briefly seen it once from a helicopter.
It is from books like these that the British public learnt that already in 2006, one fifth of all houses in London worth over £8 million had been bought by Russians (pushing property prices up) and that West End shops rushed to hire Russian-speaking attendants to serve the wives and mistresses of Russian oligarchs. That was when Russians became the favourite clients of luxury jewellery and car brands.
Nobody, however, highlighted the fact that luxury real estate makes up only 5 per cent of the London real estate market and that luxury car sales account for just a fraction of the sales of budget makes for the middle classes. In other words, few bothered to think that it was silly to apply the same lifestyle to all Russians in London, whose number has indeed grown considerably.
Other Russians
Although what does "considerably" really mean? There are over two million Poles currently living in the UK, while "Russians", who in locals' understanding usually include practically everybody from the former Soviet Union, number not more than 300,000 people, hardly more than half of whom are in fact from Russia. They are not millionaires, although they are different from poor immigrants from Eastern Europe too.
"What is the difference? The difference is that people coming here from the Baltic states or Poland are mainly those who cannot get a decent job back home," says London-based Russian businessman Pavel Cherkasov. "I know people who came to the UK from Ukraine to work at a farm in the summer, picking strawberries, and then did what they could to stay here. Whereas Russians who come here are usually more affluent, better educated, often already having a business of their own."
Cherkasov himself came to London in 2007, opened a Russian bookstore there, then sold it and is now working as a financial manager at the UK branch of a major Russian company. His company installs power supply and distribution systems at large industrial sites and shopping centres. For each project, it usually "imports" workers from abroad, mainly Lithuania and Latvia, who are cheaper and do not require visas. "Only 5-6 per cent are brought over from Russia, but these are top-class specialists who are worth taking all the trouble with visas," Pavel explains.
These are the principles on which the majority of the Russian community in London is formed: not electricians or plumbers but professional lawyers, programmers, financiers, marketing experts, art curators. Many of them were educated in the UK and remained there to work. In other words, these are quite young people with good education and ambitions, but not yet with millions in their pockets. This is the other Russian London. Instead of shopping for jewellery, they have "art crawls" in the company of Serbian performance artist Marina Abramovic (no relation to Roman) and instead of making the news with their extravagant car purchases, they attend poetry evenings devoted to Joseph Brodsky.
And, of course, there is an increasing number of businessmen here who not only bring their wives and children over to London, but move their businesses here too.
So, which Russians are becoming less numerous in London, if their spending in the UK dropped by a "scary" 22 per cent?
Whose love is gone?
"We're seeing a lot less Russian surnames on the booking sheet," Michael Evans, the creative director of a London nightclub that has Rihanna and Prince Harry among its clients, told Bloomberg. The owners of the Mahiki nightclub in Mayfair, where a bottle of Cristal Champagne goes for £400, say that Russian customers are being replaced by revellers from China and Nigeria.
People in the UK link the decline in Russians' spending to politics. Anti-Russian sanctions have created difficulties with getting UK visas. The latest high-profile controversy arose last week when many members of the Russian delegation due to attend the Farnborough air show were not granted visas. Furthermore, many Russians now prefer not to visit "the inhospitable West".
Another Russian Londoner, a former co-owner of the Yevroset mobile phone retailer, Yevgeny Chichvarkin, has not spotted any downward trend. "The number of Russians in London has not dropped. There are fewer officials, who are now finding it harder to get visas to come here to spend the money they stole," he says. The ill feeling in Mr. Chichvarkin's comment may be somewhat misplaced as well-off people are his target client base now. The man who made millions on selling cheap mobile phones outside every underground station in Moscow, has now opened a wine boutique in upmarket Mayfair, selling wine collections worth over £100,000 and cognacs costing several thousand, if not tens of thousands, of pounds a bottle. However, his business has not yet been affected by the Russian exodus.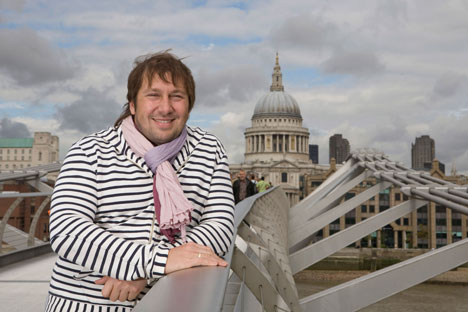 Yevgeny Chichvarkin hasn't noticed that there are less Russians in London now. Source: Getty Images / Fotobank
"Russians made up 10 per cent of our clients and they still do," Chichvarkin maintains. "But we did lose several good clients because of the Ukrainian revolution. We are, of course, sorry to have lost them but we are not sorry about the choice the Ukrainian people have made."
For his part, Pavel Cherkasov has noticed a drop in Russians' numbers: "Over the past 12-18 months, I have noticed that there is less Russian spoken in the streets."
It was at about the same time that Cherkasov sold his Russian bookstore: the number of clients had fallen significantly. "I don't think it had to do with a drop in the number of Russians. It was just that it was then that people began to switch from paper books to e-book readers. I was not the only one whose Russian book project experienced problems. (Alexander) Mamut opened a bookstore in London and they had problems too. At first, Russian books were displayed prominently in the main area on the ground floor, however, they were later moved to a small corner somewhere on the third floor of the store and the Russian-speaking staff were laid off."
Who will replace "Russian spendthrifts"?
It is clear that a cooling of Russians towards London should be of concern mainly to outfits selling luxury real estate, cars and jewellery. Their client base is indeed shrinking. And they are already busy thinking of how to replace the "Russian spendthrifts". They pin their hopes on the Chinese, whose spending is 8 per cent higher this year, but admit that it would not be quite the same. The richest Chinese in London are students from rich families. Whereas the Chinese millionaires and billionaires themselves so far prefer to invest and spend their money elsewhere: in Hong Kong, Sydney or New York.
There are also African oil tycoons, although they are no match for their Russian counterparts. Neither are revellers from Nigeria, Equatorial Guinea or Libya, who, it turns out, are more moderate in their spending habits.
First published in Russian in RBС Style
All rights reserved by Rossiyskaya Gazeta.