Russians less afraid of sanctions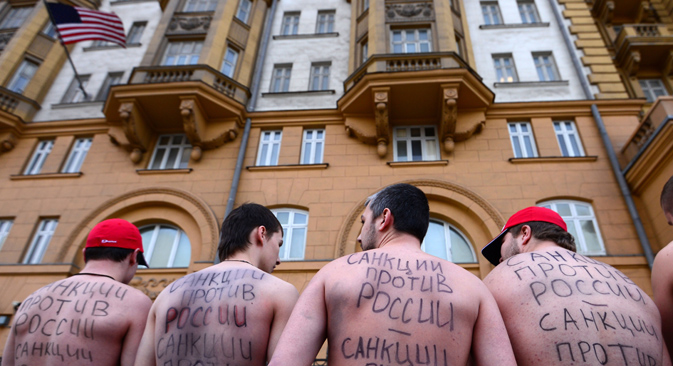 "Sanctions against Russia are sanctions against me!" People participate in a rally outside the U.S. embassy in Moscow in early March, when the first restrictions were imposed. Source: RIA Novosti / Evgeny Biyatov
A new survey shows that the number of Russians concerned about economic restrictions imposed by the West is steadily decreasing.
A new poll from the Levada Center has revealed that Russians are becoming less afraid of sanctions. The most recent survey, conducted between July 18-21 after the downing of Malaysian Airlines Flight 17, revealed that only 36 percent of Russians were concerned about sanctions being introduced against Russia by the United States and the EU over events in Ukraine. This number is down from early March, when 53 percent of Russians were concerned about sanctions, and April, when 42 percent of respondents admitted to being concerned.
The results of the survey also showed that Russians are unconcerned about the possible international isolation of their country. In the most recent poll, 38 percent of Russians were worried about international isolation – down from 42 percent in April and 56 percent in March.
Denis Volkov, a sociologist with the Levada Center, said the results show that Russians have become used to the idea of sanctions. "After the first sanctions against Russia took place, Russians felt fear," Volkov said.
He argues that this fear is now gone, primarily because Russians do not understand the possible effect of sanctions. Additionally, Volkov said, few Russian take the situation seriously because the issue is not being properly discussed on Russian TV.
Personal ties
Russians are generally offended about the imposition of sanctions. Sixty-six percent of respondents had negative feelings about the decision by the U.S. to introduce sanctions against major Russian companies, including oil major Rosneft, state-owned banks Vnesheconombank and Gazprombank and the country's defense enterprise while only 28 percent said that they were indifferent to the sanctions.
At the same time, only 29 percent of Russians think that these sanctions will create big problems for the entire country; 35 percent believe that the problems caused by the sanctions will not be too serious and 30 percent are certain these restrictions will not affect ordinary people, the poll showed.
In Volkov's opinion the consequences of the sanctions are unclear for ordinary people: "Russians will change their opinion on sanctions only when they will be able to make a logical link between the adoption of sanctions and a decrease in living standards," Volkov said.
Nevertheless, there is some indication that these attitudes are changing. The number of Russians who agree that sanctions "really affect only a narrow circle of people responsible for Russian policy regarding Ukraine," declined slightly from 63 percent in May to 59 percent in July. Accordingly, the number of people who think that restrictions would affect a wide range of citizens has increased – from 24 percent in May to 34 percent in July.
Sergei Smirnov, director of the Institute of Social Policy and Socio-Economic Programs at the Higher School of Economics in Moscow said that the delay in understanding the effects should be expected. "There must be a certain period of time between sanctions taking effect and the first changes appearing in the country's life," Smirnov said.
In Smirnov's opinion, Russians will feel the effect of sanctions when the cost of gasoline goes up, when there is a rush to buy dollars, or when they cannot buy some imported goods.
Sergei Markov, director of the Institute of Political Studies, thinks that Russians may feel differently soon. "Russians may face the effect of the latest sanctions already in September, when business season starts," Markov said. In his opinion, Russians do not believe that they will be affected by this latest wave of sanctions because they were not affected by previous ones. However, Markov notes, while the previous two waves of sanctions were targeted at specific individuals, the latest wave is focused on key sectors of Russia's economy.
This poll was conducted by the Levada Center between July 18-21 in 46 Russian regions among 1,600 respondents.
All rights reserved by Rossiyskaya Gazeta.