Four McDonald's restaurants closed in Moscow due to sanitary violations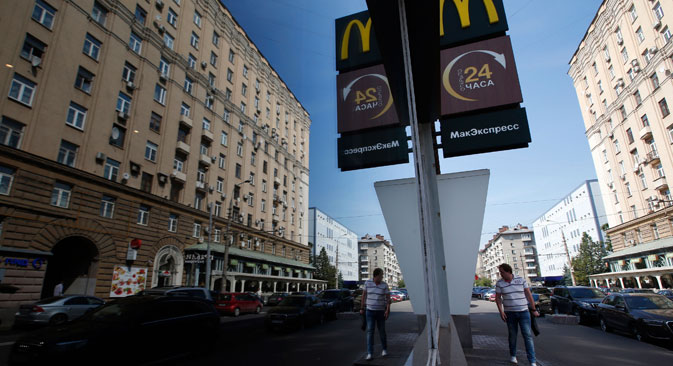 Russian consumer rights watchdog Rospotrebnadzor has ordered the temporary closure of four McDonalds restaurants in Moscow after discovering "numerous violations" of sanitation regulations. Source: Reuters
Russian regulator Rospotrebnadzor has shut down four of the U.S. fast-food chain's Moscow restaurants for "numerous violations of sanitary law" and announced a wave of further inspections of McDonald's outlets all over the country.
Russian consumer rights watchdog Rospotrebnadzor has temporarily closed four McDonald's restaurants in Moscow, including Russia's first McDonald's, which opened on Bolshaya Bronnaya Street near Pushkin Square in 1990.
The decision was taken on August 20, when the regulator's Moscow branch opened an inquiry into administrative offenses, having inspected the restaurants on August 18-20 and uncovered "numerous violations of sanitary laws." The restaurants include those belonging to CJSC Moscow-McDonalds and McDonalds LLC. Violations were discovered in restaurants on Svobodny Prospekt, Bolshaya Bronnaya Street, Prospekt Mira, and Manezhnaya Square.
On August 21 the regulator expanded its investigation, with regional branches of Rospotrebnadzor announcing inspections at McDonald's fast-food restaurants in the Sverdlovsk and Chelyabinsk regions, the republics of Bashkortostan, Karelia and Tatarstan, and the Khanty-Mansiysk Autonomous Area.
"We are closely studying the objections raised to define what should be done to re-open the restaurants as soon as possible," said McDonald's in a statement. "Our main priority is to serve our customers with top quality and safe products."
"We do not plan to assess our losses. However, it is another thing that people will end up unemployed and lose their salaries," McDonald's official representative in Russia Nina Prasolova told the ITAR-TASS news agency.
The Kommersant newspaper, referring to one of the officials, writes that as the McDonald's inspection was carried out on behalf of the government, the restaurants were "immediately closed, although during scheduled inspections an order to eliminate violations is initially issued," said an unnamed source from the publication.
The press service of Vice Prime Minister Arkady Dvorkovich, who oversees the agriculture and food sector, was not able to give any comment.
McDonald's, which according to Euromonitor International occupies a third of the Russian public catering market, has always excelled in the observance of sanitary norms in the sector, and lately it had clearly begun to pay even more attention to this, the executive director of consulting company Restcon Andrei Petrakov told the Vedomosti newspaper.
Sanitary standards in Russia are so stringent and complex in execution that violations can be found in virtually every inspection of any restaurant, he said.
Petrakov linked the closure of several McDonald's restaurants, including two central branches, with the "sanctions war": For twenty years these branches had experienced no problems, yet suddenly they were proclaimed to be the worst offenders.
Meanwhile, Deputy Prime Minister Olga Golodets said that there are no plans for sweeping inspections of U.S. fast food chains in Russia.
There are more than 430 McDonald's restaurants in Russia, including over 100 in Moscow. Russia's oldest McDonald's near Pushkin Square was among the chain's ten highest-grossing restaurants in Europe in 2013.
Based on material published by Interfax, ITAR-TASS, Kommersant, and Vedomosti.
All rights reserved by Rossiyskaya Gazeta.