People of Donetsk endure life during wartime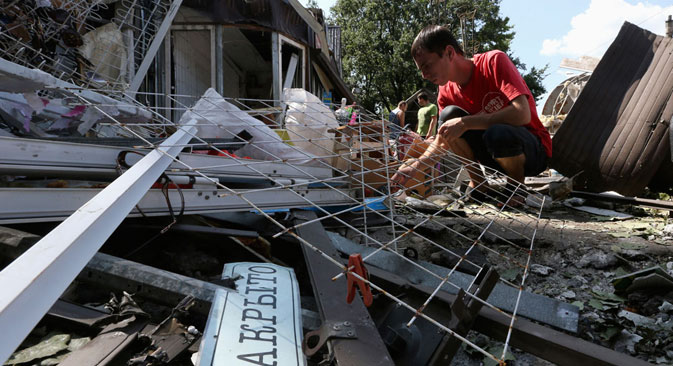 Ruined hopes: a bomb-damaged building in Donetsk, which has become a city under siege. Source: Reuters
At the heart of the battle between pro-autonomy militias and forces loyal to the Ukrainian government in Kiev, the city of Donetsk has been living to the rhythm of explosions for weeks. Residents say fear has become part of their daily lives.
"I saw it happen slowly, this war. I had even started to get used to the presence of armed men, empty streets and the sound of explosions at night. But everything changed when the shells landed in our residential quarter. Now I am scared all the time," says Antonina Kharchenko, 62, sitting on a bench at the entrance to her building.
Her neighbourhood, near the rail station, has been fired on several times in recent days. "When the first shell exploded in our residential quarter, the militiamen [from the so-called Donetsk People's Republic] organised an evacuation," she says.
"But I didn't want to leave. I do not know where to go. All I have is my apartment. Many of those who left have returned because they have no more money." Antonina has spent many hours in an air-raid shelter.
The people of Donetsk know all the shelters closest to their homes. Lists were distributed or posted at the entrances of their buildings. In the past two weeks, fewer and fewer areas of Donetsk have remained untouched by shells. These are not massive bombings like those of the Second World War, but between 10 and 20 shells explode every day, enough to scare everyone to death.
"The real problem is safety here," says Andriy, a young waiter at one of the few restaurants in the city centre still open. "Until the beginning of August, it was pretty quiet. The shelling was restricted to the area around the airport and the city's south, but now, there are no longer any safe places."
The streets have become almost devoid of cars and pedestrians, while 95 percent of shops are closed. Just a handful of restaurants and grocery stores, sufficient to feed those who have stayed in the city, remain open.
Andriy says: "All my friends have gone. Many of them are now in Crimea, some are in Russia, others are in Kiev. I have stayed because I am one of those few who have not lost their job."
Residents estimate that between 30 and 60 percent of the city's one million inhabitants have fled Donetsk since May. Paradoxically, the city centre first saw an exodus, although the shelling focused initially on the outskirts.
"That's because those in the centre have the means to leave, while the suburbs are populated by retired people and workers who do not have savings to go elsewhere to live," says Andriy.
At sunset, the last signs of life disappear. People hurry to get home before the curfew, from 11pm to 5am, imposed by the separatist leaders. However, an island of resistance remains, in which the brave people and insomniacs gather.
The Banana Café, the only one open around the clock, hosts on its terrace a strange mixture of militia leaders flanked by heavily armed men, stylish young women and foreign journalists. If you come out, you will be greeted by total silence, broken regularly by the rumblings of war.
Mariya Krasnova, 21, is a regular at the café. Although she lives on the other side of the city, she takes refuge at the Banana Café to meet her friends. All of them are pro-Russians, and a good half of them are fighting with arms in their hands.
"I am proud to have such friends," says Mariya. "This is my new family, because most of my relatives have stopped talking with me since the start of the conflict. They live in other regions of Ukraine and are misinformed by the media. They think I'm a terrorist! But we are simply defending our territory!" She swears that she will never leave Donetsk.
Her anger is shared by many other residents, but it is oriented towards different directions. "I'm tired of this war," Vasyl Chorny, an electrician and Antonina's neighbour, says with a deep sigh.
"At first, I supported the separatists, but now I just want everything to stop and people to live as before. We were promised that after the referendum [for the independence of Donbass, held on May 11] that the situation would improve, but the opposite has happened. The people behind this conflict are unable to negotiate a solution. They will not let us live in peace!" he laments.
All rights reserved by Rossiyskaya Gazeta.