Prince Nikolai Romanov dies in Italy at the age of 91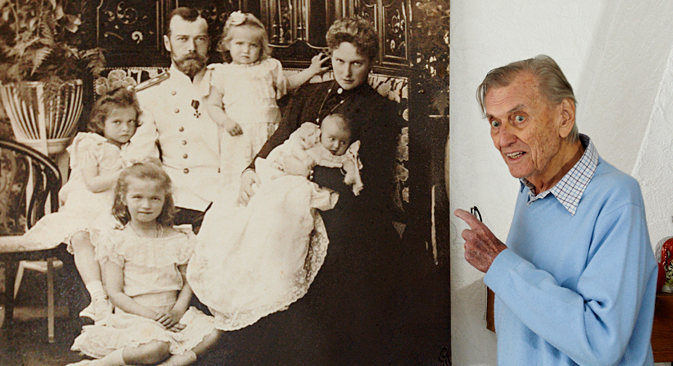 Prince Nicolas Romanov of Russia showing his ancestor Tsar Nicholas II, his wife Alexandra Fedorovna and their four daughters during an auction preview in his apartment in Rougemont, (93.2 miles east of Geneva) in 2012. Source: Reuters
Patron of the arts, writer and historian dies at his home in Tuscany.
The eldest member of the Romanov family, Prince Nikolai Romanovich, has died in Tuscany, aged 91. ITAR-TASS has learnt the news from his younger brother Dimitry Romanovich.
"This is a huge loss for us," he said, adding that it has not yet been decided where his brother will be buried.
Nikolai Romanovich represented the Nikolaevichi branch of the Romanov family, the oldest one in the dynasty's male line. His father Roman Petrovich, Prince of the Imperial Blood, was a second cousin to and godson of the last Russian tsar, Nicholas II. His mother Praskovia Dmitrievna was the daughter of Count Dimitry Sheremetev, a childhood friend and aide-de-camp to Nicholas II.
Nikolai Romanovich was born in Cap d'Antibes on Sep. 26, 1922.
After the family moved to Rome before World War II, Nikolai entered a liceo classico. In 1942, Nikolai Romanov, 19 at the time, rejected an offer from the Italian fascist government to become king of occupied Montenegro. From July 1942, he worked in the Allies' organizations engaged in anti-Nazi propaganda.
In January 1952, he married an Italian. Prince Nikolai and his wife had three daughters. Their granddaughter Nicoletta is a famous Italian actress.
Having been appointed by the family as head of the Romanov Family Association in 1989, he set the goal of "securing a dignified and historically appropriate" reburial ceremony for members of the Romanov family who were executed by Bolsheviks in Yekaterinburg in 1918. In July 1998, he attended the funeral of Nicholas II and members of the royal family at the St Petersburg's Peter and Paul Cathedral.
One of the initiatives of the surviving members of the dynasty is a charity foundation, which the prince asked his younger brother Dimitry Romanovich to head in Denmark. Among other things, the foundation helps hospitals and kindergartens in Russia.
First published in Russian in ITAR-TASS
All rights reserved by Rossiyskaya Gazeta.