Russian counter-sanctions against the EU gave organisers of the Sochi 2014 International Investment Forum last week pause for thought.
Serving up 20,000 cups of tea and coffee, two and half tonnes of hot meals and 600kg of desserts over the two-day conflab was not a problem.
The challenge came in the cheese. Oh, and to a certain extent, the fish.
Fish and cheese for the prestigious event are normally imported, but with European foods disappearing off the shelves of Russian shops as the ban on EU foodstuffs begins to bite, organisers needed to think on their feet.
Yuri Polyakov, head of consumer services for Krasnodar Region, found the perfect solution for replacing Greek feta in suluguni — the sharp, salty white Georgian cheese that is a popular local dish.
And for English Cheddar? A Russian made Gouda substituted.
Suluguni - saltier than feta - can probably pass in a 'Greek' salad. But would any Englishman who happened to be at the forum accept gouda instead of cheddar? Only if his life depended on it!
'Glow in the dark' bikes?
When does a bike glow in the dark? When it's a Russian bike, of course.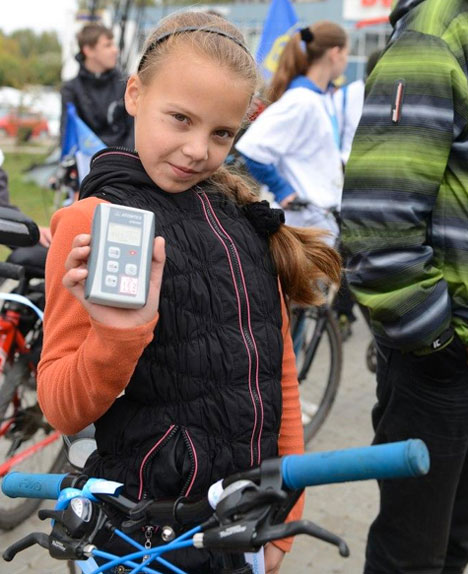 Nuclear Bike Ride in Zarechny (Yekaterinburg). Source: Rosatom
Russian state atomic energy organization Rosatom has teamed up with environmental groups, university students, schools and cycling clubs in regions across the country to check background radiation levels.
Saturday's 'Nuclear Bike Ride' took place in 13 cities, including Chelyabinsk, Saratov, Kaliningrad, Yekaterinburg and Novosibirsk in seven regions that are home to nuclear power stations.
Cyclists, equipped with dosimeters, headed out to take up to 200 measurements of radiation. The data will be used to begin creating a detailed map that will be used by 17 data across Russia, including Moscow, St Petersburg, Smolensk and Voronezh.
The idea is to help build an early warning system in case of a Fukushima or Chernobyl-style power station leak….and while local cyclists still need lights to see at night.
Olympic Gymnast's Perfect Figures
Alina Kabayeva, a 31 year old Olympic champion rhythmic gymnast has been appointed chair of influential National Media Group after stepping down as an MP for pro-Kremlin party United Russia.
Although Ms Kabayeva only known media experience is limited to having fronted a TV chat show, is seems she has sufficient connections to secure a top job at a major company that was founded by Yuri Kolvachuk, a close friend of President Vladimir Putin.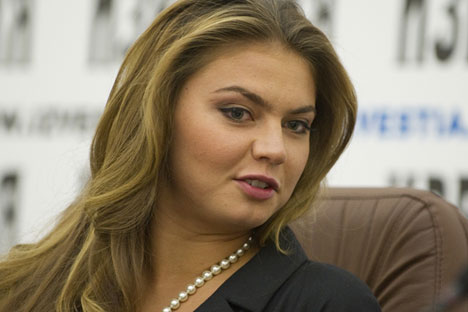 Alina Kabayeva. Source: RIA Novosti / Alexander Vilf
The media group is one of the most influential in Russia, controlling Ren-TV, Channel 5 and holding a 25% stake in Channel One, the country's biggest public broadcaster. The group also owns newspaper Izvestia and Russian News Service radio and reported revenues of $383 million last year.
One well-known Russian man who has long been rumoured to be impressed by Ms Kabayeva is Mr Putin himself. Although officially denied, media reports over the past few years have often suggested the two are romantically linked.
Perhaps the former rhythmic gymnast is now expected to turn in as perfect figures for the media group as she once did for the Olympics?
Metal Fragments Rocket in Price
While we are talking about figures, it's worth noting that association with one of Russia's enduring heroes — first man in space, Yuri Gagarin, sent prices skyrocketing last week at a Berlin auction house.
The tiny 2 inch square (5 cm square) piece of the Vostok-1 rocket that took Gagarin into outer space — and back safely for earthfall near Engels in the Volga river region of Saratov in April 1961 — was signed by the cosmonaut himself.
Sold as part of the collection of German artist Andreas Hoge, himself a trained cosmonaut, it fetched 7,500 Euros ($9,700) around two and half times its estimate of 3,000 Euros.
One of 104 lots sold at the Soviet Space Memorabilia Auction, the auction attracted online bidders worldwide.
Hoge — stage name Andora — did well out of his association with Russia's space program. The artist, who painted a Proton rocket in Baikonur in 1992 and is friends with cosmonaut Vladimir Dzhanibekov, after whom a minor planet 3170 Dzhanibekov was named in 1979, sold a number of sketches for around 2,000 Euros each.
Hoge kept some things with a more personal connection to Gagarin back, including the famous spaceman's cosmonaut diploma.
All rights reserved by Rossiyskaya Gazeta.