UK-Russia crossviews: Celebrating Putin's birthday with some old cliches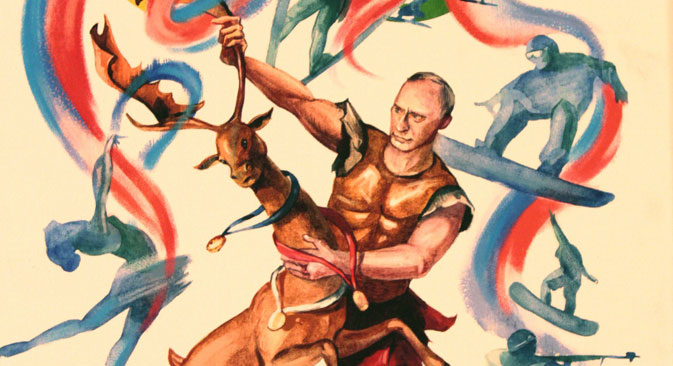 One of the labour - the Sochi Olympics. Source: Moscow agency
On Vladimir Putin's 62th birthday barely a single self-respecting Western media outlet failed to mark the occasion with its own take on the man. Nikolai Gorshkov in London thumbs through British press birthday greetings to the Russian president.
One of the labour - the Sochi Olympics. Source: Moscow agency
Sky put out a report on Russian attitudes to Mr Putin: "Beyond the gleaming skyscrapers of the capital, there is another Russia".
A scene of old wooden huts and a broken down Lada illustrate this "other" provincial Russia. This reminds me of how Soviet media used to contrast the "neon lights of Western shopping malls" with the "slums and grime of capitalist cities' back streets".
One up to the Russians: it was we who invented a cheap trick that has caught on with the free press.
Sky's reporter takes a straw poll of what ordinary Russians think of Mr. Putin. They think well, and the reporter appears surprised that they don't associate the difficulties of their daily lives with the president. Should they? We are shown "babushkas" (old women) selling homemade pickles and stuff at a local market stall to "supplement their pensions". But we are not told that the pension age for women in Russia is still 55 years; at this tender age one can hardly call a woman "babushka". I suspect the women in the report would be unpleasantly surprised to learn that if they were ever to settle in Britain they would have to wait for another 11 years to get their state pension. And if they find out that, unlike in Russia, pensions in Britain are subject to income tax they would have even more reason to thank their president.
Small wonder, a man in his 70s in the Sky report calls Putin a real "muzhik" (tough guy). After all, it's Putin who has been resisting calls from liberal economists to increase pension ages along Western lines. This is one Western standard Russians are really not keen on. I can almost hear voices arguing that Russian pensions are no match for British ones. Quite the opposite, the maximum Russian state pension is 42 percent of the country's average salary, while the maximum British state pension is 22 percent of the British average salary. As for the homemade pickles, jams and stuff, thank goodness we have those babushkas, as nothing in even the best shops can beat their produce for taste.
Made in Russia
Finally Sky comes finds a critic. A lorry driver says, "Russia does not produce anything", echoing a recent statement by US President Obama. But shouldn't he know better than the US president, since he drives a KAMAZ truck, which is as Russian as they come? And has won numerous international rallies including the Paris-Dakar in its heyday?
The driver's little rant about the spoiled view from the window of his suburban St Petersburg flat is lost in translation. It's not the "houses", which in Russian parlance means blocks of flats that have sprung up beyond his window, but "cottages", the Russian term for country homes that are spreading all over rural Russia. Is that really a sign of tough times and falling living standards?
A Herculean feat
The Guardian writes about Moscow exhibition 'The 12 Labours of Vladimir Putin', which depicts the president as Hercules, battling western nations disguised as serpents and monsters, or taming an ox bearing the symbol of Crimea, which he brought back into Russia's fold. But not everything is hunky dory, the paper says, pointing to the Russian joke that, as Putin reaches 62, the rouble has dropped to 40 to the dollar as a result of Western sanctions. There's no mention of another figure: Putin's approval rating of 86%.
Putin supporting the ceasefire in Ukraine. Source: Moscow agency
The Telegraph catalogues Putin's achievements and failures since his last birthday, noting his "gracious" release of two members of punk group Pussy Riot, who "prayed to the Virgin Mary to cast him out of the Kremlin". If swinging and screaming in tights and balaclavas on top of a church altar is called praying, then I'm the Pope.
Among major failures it lists Putin's attempts to pressurise his "ally Viktor Yanukovych, then president of Ukraine, into postponing an association deal with the EU". Had Mr. Yanukovych indeed been as pro-Russian as we are led to believe by the Western press he would not bothered with the EU but jumped straight into bed with Russia and put Ukraine's gas transit system squarely in Gazprom's hands.
The Russian natural gas monopoly gets a mention in Sky's journey through rural Russia, when the broadcaster stops at the magnificent Iversky monastery in Valdai. Desecrated by the Bolsheviks the monastery has been returned to the Russian Orthodox Church and restored to its former glory at considerable cost, partially paid for by Gazprom. Sky's reporter is surprised that the locals do not appear to resent the expenditure on the gleaming golden domes and chiming bell towers. Why would they? I, for one, would not mind Gazprom spending a bit of dosh on the housing estate next to where I live in London.
Media circus
We've only looked at British press reports on Putin's birthday, although it has been marked internationally. Somehow the Russian president's birthday has become the most talked about event in the world's media. Anyone know the dates of birth of President Obama or Prime Minister Cameron?
Nikolai Gorshkov is a freelance writer based in London. He served as a BBC correspondent and representative in Russia and the former Soviet Union from 2001-2012.
The opinion of the writer may not necessarily reflect the position of RBTH.
All rights reserved by Rossiyskaya Gazeta.