Mikhail Gorbachev discharged from hospital after sudden health scare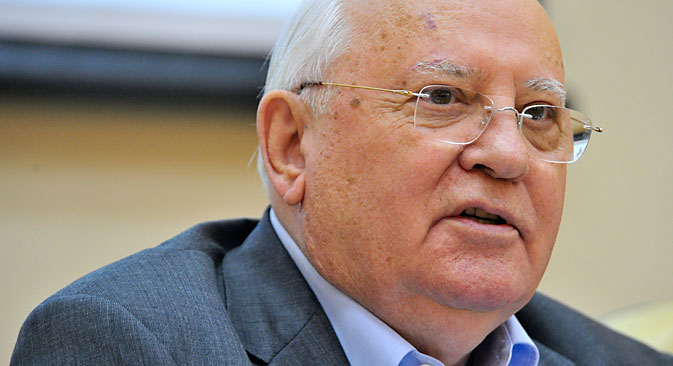 Mikhail Gorbachev. Source: TASS
Mikhail Gorbachev, the last leader of the Soviet Union, has been discharged from hospital after being suddenly admitted on Oct. 9 in poor health. Health permitting, the 1990 Nobel laureate intends to visit Germany in November for the 25th anniversary of the fall of the Berlin Wall.
Former Soviet President Mikhail Gorbachev says he is "feeling better" after being discharged from hospital, where he had spent the night of Oct. 9.
"I am certainly feeling better today than I was yesterday. So the doctors agreed that it was possible to allow me to leave the clinic," Gorbachev told Interfax on Friday, Oct. 10.
"I have been discharged from the hospital and I am now heading to my office," he said.
The 83-year-old had been experiencing poor health for a week or so when he was suddenly taken to hospital on Thursday, Oct. 9 after his condition deteriorated.
Berlin on the agenda
Pavel Palazhchenko, Director of International Relations and Press Contacts at the Gorbachev Foundation, told RIA Novosti earlier on Friday that he had just spoken to the former Soviet leader.
"Today they will finish the examination and next week, or maybe even today, he will return to his normal schedule," said Palazhchenko.
Representatives at the foundation added that Gorbachev, health permitting, plans on visiting Germany in November in order to participate in events organized to celebrate the 25th anniversary of the fall of the Berlin Wall.
The former Soviet leader himself admitted that his illness has prevented him from following the Nobel week. Gorbachev had won the Nobel Peace Prize back in 1990 while still in charge of the USSR. The Nobel committee determined that the increasing transparency that he introduced in Soviet society helped strengthen international trust.
There is no Cold War
Remarkably, despite the health problems and his advanced age, Gorbachev is still politically active. Recently, the ex-president called the U.S. the world's "main fever," commenting on U.S. President Barack Obama's speech at the UN's General Assembly, in which he called Russia, along with the Ebola fever and Islamic terrorists in Syria and Iraq, the world's main threats.
"There is one main fever and that is America with its claim to leadership," the former Soviet leader told the Russian News Service.
"This is not even political dialogue, it's a lie. [They] touch, provoke, and most importantly do so in order to prevent conflicts in Europe from calming down. It's because they have claims to a monopoly. Ukraine and other things are just pretexts."
Meanwhile, Gorbachev is convinced that despite the tensions, there is no Cold War between the two nations: "There is no Cold War, but there are signs of it. No one needs the Cold War," noted Gorbachev, underlining that it is not only the Cold War that is frightening, but also its consequences, since it is difficult for countries to re-establish relations afterwards.
"Things like that last for decades, and it is hard on our citizens. It was difficult, I remember, changing relations with them," he said.
"It was difficult also for our citizens. They thought that we wouldn't find any points of contact with them, that they couldn't be relied on. But America is a great country, and we must have cordial relations with them."
Based on material published by Moskovsky Komsomolets and RIA Novosti.
All rights reserved by Rossiyskaya Gazeta.