Interest in Russian will only grow due to tension, says U.S.-based linguist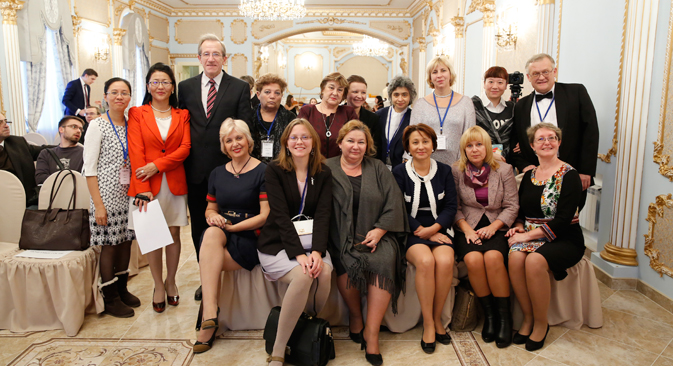 Winners of the Best Russian Teacher Abroad contest. Source: Press Photo
RBTH speaks to Alexandre Strokanov, the head of the Institute of Russian Language and Culture under the Lyndon State College in the U.S. state of Vermont, about the complexities of the Russian language, politics and how it affects Russian language studies. Strokanov is the winner of the Best Russian Teacher Abroad contest, held in Moscow on Oct. 21-24.
RBTH: What do Americans find to be the most difficult in the Russian language?
Alexandre Strokanov: There is one letter in the alphabet that they find it difficult to pronounce, 'ы'. But it takes a week or two to master. Then, of course, the cases. Overall, I find all this talk of how difficult the Russian language is to be an exaggeration.
It is not so much an issue of how difficult it is than an issue of not having enough practice. I studied English at school and, of course, I could not speak it. Then I studied it at university, then I presented my PhD in English and still I could not speak it.
Alexandre Strokanov. Source: Press Photo
I began to speak English when I became a man of business! I worked in the marble business with American partners and I had to speak the language. And then, when I was invited to teach at a university, I simply had no choice.
RBTH: How do you address the issue of the lack of practice?
A.S.: The internet, Skype, conferences and travel. Via video links [which are organized with Russian universities – RBTH] they don't have to speak Russian. The audience at these events is very diverse and not all of them are doing Russian. I keep telling them: Speak the language, it is practice.
Most do, but others are shy and speak English. The same is true for the Russian side: Many students speak English and welcome an opportunity to practice it, while others are shy and prefer to speak Russian. In the end, we get a free linguistic exchange and I provide simultaneous interpretation.
RBTH: Now to politics: How is the atmosphere, which is becoming increasingly tense, affecting interest in the Russian language?
A.S.: I think interest will grow. This is my forecast. Here there arises a very interesting situation. If we compare the Cold War with the 1990s, back then there was a much higher demand for the Russian language, there was funding from the U.S. government. Then came the 1990s and everything fell apart.
We noticed a rise in interest – the very beginning of it – in the Russian language some time in the early 2000s. The more confident Russia was becoming, the bigger that interest grew. Now this new confrontation will only spur more interest.
Why? Because ordinary Americans do not necessarily think the same way as American politicians. Many people simply do not trust politicians. All the more so since with the internet now anyone can collect and collate information. And when, in an interview for The Economist, Obama makes four mistakes in a single paragraph, it is awful! My students simply laughed at that. The Russian language is an alternative source of information. Learn it.
It is very important whether Russian will be taught as the language of a potential enemy and, therefore, whether the message in the learning will be: "We are studying an enemy's language" or whether the message will be that we are studying the language of a friend but we have some questions that we would like to clarify.
RBTH: Can it be said that the Americans are living in a Cold War atmosphere?
A.S.: America has numerous problems of its own. A comparison with the Cold War is not the most fortunate one, because back then Americans were really worried by relations with the USSR. My American friends say: "We were genuinely afraid of you." This is no longer the case. An ordinary American these days is more concerned about his everyday problems rather than the problems of Russia, Ukraine and the rest of it. The Cold War was a serious era after all. I don't think we'll see a repetition of it.
It is another thing that the American political class currently has very few politicians capable of a different tone of conversation and a different attitude.
Then again, look at how Russia experts are being trained now. Since the U.S. government is cutting down support programs for Russian studies, Russia should choose the right approach and start operating on the principle of a state order.
"We are ready to support those Russian programs in America that will cooperate with Russian universities and where we shall have a voice." I am sure that many American universities will agree to that.
RBTH: And a quick question not related to politics: Could you please name your three favorite books?
A.S.: My most favorite book is The Master and Margarita by Mikhail Bulgakov, followed by The Possessed by Fyodor Dostoyevsky. Of contemporary books, I liked Alexei Ivanov's The Geographer Drank His Globe Away.
All rights reserved by Rossiyskaya Gazeta.