Young Muscovites choose social networks over TV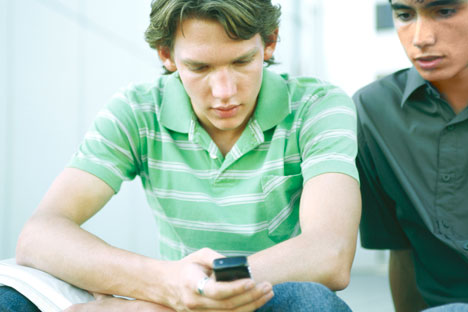 TV is losing the battle to the mobile phone and Internet. Source: Getty images / Fotobank
The VKontakte social network has eclipsed all other internet services in popularity for the younger segment of the Moscow audience, including internet search giant Yandex, as well as all the state TV channels, according to Vedomosti
In September 2014, the TNS Rossiya ratings company published a study of the 12-34 audience in Moscow. The study shows that in the course of a month 2.18 million people opened the VKontakte pages daily, while only 2.108 million visited Russia's largest search engine Yandex, with Google notching 1.73 million visits and internet holding Mail.ru 1.38 million.
The daily audience of the five state TV channels was composed of the following figures: 1.06 million people watched Perviy Kanal, 1.06 million - STS, 1.25 million - TNT, 0.82 million - Rossiya 1 and 0.74 million - NTV.
In other words, any one of the four most popular internet services surpassed any one of the state TV channels in the young user category, according to Vedomosti.
"We are witnessing a fantastic growth in users, as well as the time they spend online," says First Deputy General Director of Mail.ru Dmitry Sergeyev (the Mail.ru Group is VKontakte's exclusive owner).
Internet resources have been able to obtain such success thanks to the increase of mobile phone users, says Sergeyev. Mobile communications help social networks the most - people use VKontakte even when they are watching TV. This is most evident in the cities that have over 1 million residents, such as Moscow and St. Petersburg, Sergeyev explains, but the trend is gradually spreading to the rest of the country.
However, Dmitry Mednikov, Deputy General Director of the All-Russia State Television and Radio Broadcasting Company, denies that young audiences are leaving TV for the internet. Mednikov says that young people mostly watch videos on the internet, videos that in one way or another are related to television. In this case, internet sites and social networks are merely some of the ways of distributing a television product.
This year, the TNS Rossiya report compiled in April indicated that VKontakte's audience was 52.1 million people, while rival Odnoklassniki boasted 41 million users, with Facebook in third place with 23.8 million.
However, a Levada Center survey showed that 46 percent of internet users go online to collect information and socialize, while only 34 percent use it to obtain news. Thus, the majority of Russians receive information about world events from state channels or from friends. Only a third of internet users read news publications, according to the report, published in the summer of 2014.
The VKontakte social network was valued in August 2014 at more than $2.9 billion, based on Mail.ru's accounts for the first six months. The last time the social network's value had been announced publicly was in 2011. In that period Mail.ru estimated the social network's value at $1.5 billion.
Based on material published by Vedomosti and RBC.
All rights reserved by Rossiyskaya Gazeta.