Every year Ded Moroz (Grandfather Frost), Russia's equivalent of Santa Claus, receives almost 200,000 letters from every corner of Russia and beyond. Unlike his Western counterpart, however, Ded Moroz gives children presents for New Year's instead of Christmas, sweeping into houses across the land to leave his gifts on the night of Dec. 31.
It is generally three- and four-year-old children who believe in Ded Moroz, who traditionally leaves his gifts under the Christmas tree. Seven-year-old children think that they are visited by the assistants to the chief magician, who lives faraway at the North Pole. And among ten-year-olds hardly anyone believes in magic.
However, reality shows that in Russia people of all ages write to Ded Moroz. A special site has been created for this phenomenon, to which anyone upon registration can send an email. Russians send paper letters to Ded Moroz's official residence in Veliky Ustyug, in the northeast corner of the Vologda Region in the north of European Russia.
Tablets, laptops, telephones
"Ded Moroz's post office has been open since 2001 and so far it has received 2,660,523 letters," says postal worker Natalya. "We receive about 170,000 letters annually and the age of the senders is from 0 to eternity."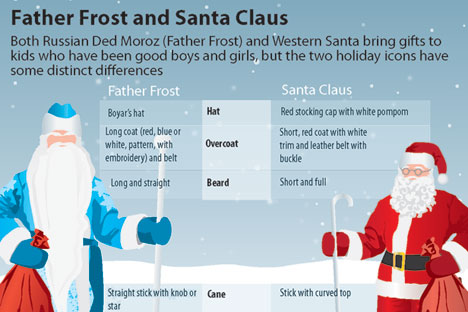 Click to enlarge the infographics
Children typically ask for technological novelties. This year most children have ordered MP3 players, digital photo cameras, game consoles and smart phones (all in third place). Second place is occupied by laptops, while the tablet is the gift that children dream to have under their tree most of all.
"It is the second year in a row that I'm asking Ded Moroz for a tablet," says seven-year-old Zhenya. "My father and my mother have one and I think it's unfair that I don't. If I get one, I can decide by myself how often to use it. I hope Ded Moroz will grant my request."
Magic by mail
Russia's chief magician is capable of responding only to the most original and sincere letters. The cost of one Ded Moroz response is about 45 rubles (less than one dollar), which is why it is impossible, both financially and physically, to respond to everyone. "It is good that there are always people who dedicate their time to charity and help realize children's dreams," says Ded Moroz's assistant Natalya.
However, it is possible to receive a response or a small gift from the magician himself, but at a price, says Lyubov Yakimova, Ded Moroz's press secretary.
"People can order their children a gift on the official site," explains Yakimova. "It comes in the form of a letter, a package or a small parcel. Parents choose a blank form and write the text. They can order a quality branded gift, such as a collection of sweets or a New Year's hat and scarf."
The prices indicated on the site are affordable for everyone: from 50 rubles (one dollar) for a coloring book to 650 rubles ($14) for a collection of sweets with a toy, plus postage costs. The gift will arrive with Ded Moroz's imprint and signature.
The penguin and the Japanese sword
Besides gadgets, modern Russian children dream of Lego construction toys, dolls, soft toys and domestic pets. And the pets they ask for are not only puppies or kittens, says Natalya.
"One girl wrote: 'Dear Grandfather Frost, you live at the North Pole, there are many penguins around you, give me one, I really want to have a live penguin at home.'"
Ded Moroz's postal workers admit that this is the most unusual children's request that has ever come in. Many want to receive a magic wand for realizing their dreams or magic dust for making objects come to life. Often they ask for an owl, such as the one Harry Potter has. A couple of children simultaneously asked for microscopes and one boy, who wants to study the Solar System, asked for a telescope as a New Year's gift. But the most interesting request came from a girl who wanted to have a Japanese katana sword.
Porridge with Ded Moroz
"I want to visit Ded Moroz," says the three-year-old Nastya. "I'm afraid of him. But if we eat porridge together, I'll stop fearing him and will ask for a bicycle."
For many children, meeting Ded Moroz is already a wonderful gift. And it is possible to visit the Realm of the Magician, as it is officially called. There you can find hotels, cafes, a skating rink, playgrounds, an amusement park and even a zoo.
"The standard package costs about 1,000 rubles," says Lyubov Yakimova. "It includes a meeting with Ded Moroz, a tour of his home, a visit to the post office and other types of entertainment. For an extra amount you can obtain a certificate or a bag of sweets."
Adults are just as happy to meet Ded Moroz, and also ask him for things. According to a December 2014 WCIOM survey, most Russians want to receive souvenirs (13 percent), whereas 11 percent want to find money under the tree. One in ten Russians wants perfume, cosmetics, candy, alcohol or delicacies, while 17 percent do not want any gifts.
"In general, adults ask for immaterial things: health, wellbeing, work, help in finding a partner or to have a baby," says Natalya. "This year, in relation to the current situation, many adults and children have asked for no war and global peace."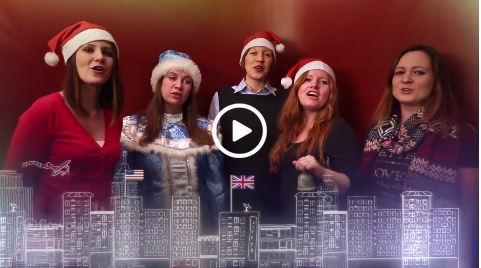 All rights reserved by Rossiyskaya Gazeta.