Russia's young generation learning military history through video games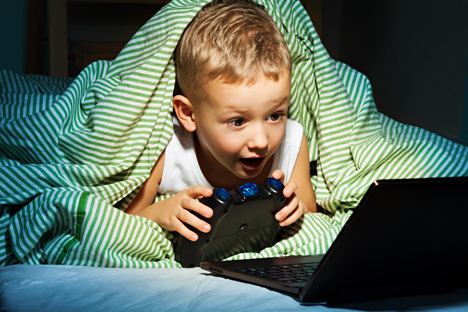 For a child, an online game is one of the most effective ways of studying the history of one's country. Source: Lori/Legion Media
Young Russians are learning about the history of their country with the help of war-themed video games. This type of video game not only helps children's education but is also hugely popular among adults, generating a hefty revenue for developers, who stress that while their products feature a patriotic element, they strive not to take sides.
A bullet hits a sack next to a howitzer; a projectile explodes in the sky, forcing a plane to lurch to the right. In slow motion, a Red Army soldier lobs grenades into a Nazi tank. A modern rendition of a classic Soviet war song soundtracks the action.
This is a trailer for the War Thunder video game by Gaijin, and has collected nearly 4 million views on YouTube in just one month - yet another indicator of the increasing popularity of World War II video games in Russia.
Learning history
For a child, an online game is one of the most effective ways of studying the history of one's country. Practically any game that is to do with history inherently performs an educational function, says Anton Pankov, PR director for Russia at the Belarusian company Wargaming, responsible for developing the World of Tanks video game, which is popular in Russia and elsewhere in the world.
According to Wargaming, there are over 30 million people registered in its Russian-language cluster (in the CIS). The daily peak in online players simultaneously logged in the World of Tanks game in the Russian cluster is 700,000-800,000 people, which is equivalent to the population of cities like Krasnodar or Tolyatti.
In Soviet times, this function was performed by aircraft and ship modeling clubs overseen by the DOSAAF (Volunteer Society for Cooperation with the Army, Air Force, and Navy) and other military-technical sports, says Sergei, a retired lieutenant-colonel and the father of a 12-year-old boy who is fond of gaming.
It was in those clubs that kids learnt how aircraft and ships were made, learnt to design them themselves, studied the history of the Russian air force and navy. In this way, patriotism was developed among the young.
These days, they can get this information from games. "We give players unique information about military hardware that was used in real battles. Through the game, our players get to know that military hardware and through our website, social networks, and video channels they learn various interesting facts," says Anton Pankov.
He admits that there is an educational and patriotic element to the company's gaming products and its offline initiatives, but adds that in its projects the company tries not to take sides in well-known historical conflicts (like the Second World War).
Offline battles
Video games, as a strand of the entertainment industry, became widespread in Russia in the late 1990s and their popularity has grown with each passing year. According to Insight ONE agency, as of 2013, some 58 percent of Russians (about 80 million people) were into video games. In 2012, according to various sources, the figure stood at 40 to 46 million people. Insight ONE estimated the Russian gaming industry's revenues for 2013 at 35.4 billion rubles (slightly over $1 billion at the exchange rate at the time).
According to Anton Yudintsev, managing director of the Russian company Gaijin Entertainment, the developer behind the War Thunder game, the number of gamers interested in the war history genre is also growing, as this is a topic that is understood and keenly felt by people of all ages. The average fan of war history video games is 25-27 years old, which means that many virtual pilots and tank drivers are over 30. Increasingly, parents are playing together with their children in the hope that games like these will get their kids interested in the history of their country.
In addition to creating popular games, developers are also building up their offline activities: cooperating with war museums, restoring old pieces of military hardware and using various other means of promoting gamers' interest in the Second World War. For example, the World of Tanks website even offers downloads of paper model tanks for gamers to decorate their desks with.
All rights reserved by Rossiyskaya Gazeta.