Getting home safely: Volunteers help out the vulnerable in Nizhny Novgorod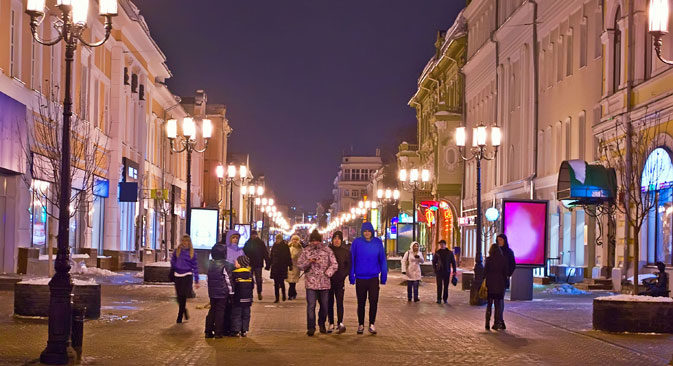 Activists of the movement have already filed papers to become officially registered as a regional youth public movement. Source: Lori / Legion Media
A new public initiative aiming to provide safety for vulnerable people after dark has been launched in the city of Nizhny Novgorod. In the week since the I'll Be by Your Side project was launched, it has been joined by dozens of young people willing to help their neighbors. Similar organizations already operate in St. Petersburg and Chelyabinsk.
A group of civic-minded volunteers in Nizhny Novgorod have teamed up to set up a public movement to provide safety to citizens on the streets at night. When it gets dark, members of the initiative, called "I'll Be by Your Side," walk home all those who may feel vulnerable out in the street alone: young women, pensioners, and children.
The city, 250 miles east of Moscow, has recently been shocked by several distressing high-profile incidents. In the most shocking, Maria Glinkina, 19, set off to see her friend in the city center after meeting up with her former classmates.
Glinkina called her friend when she was within 10 minutes of her place. But she never made it. A search for Glinkina was launched, in which not only the police but dozens of volunteers took part. Two days later her body was discovered in the basement of one of the apartment blocks not far from the place from where she made her last phone call. Her murderer has still not been found.
Several days later, another potential tragedy was averted. Also in the center of the city, in broad daylight, a man tried to drag a nine-year-old boy into his car right near the school. It was only thanks to the interference of a pensioner, who was waiting for his grandson outside the school, that the boy remained free.
Propelled into action by tragic events
"I was sitting and reading the news. People go missing in Nizhny Novgorod all the time. The latest incident, involving a child, did not end in a tragedy only because an elderly man interfered. And I thought: there are so many strong young men in this city. Why don't we unite in order to help those in need," says the head of the movement, Dmitry Novosyolov.
Novosyolov, 27, has a full-time job, but he devotes from four to five hours every day to the volunteer movement. At the moment, I'll Be by Your Side has three coordinators but in future they plan to hire more people to make things easier. Every day one of them is on duty, taking calls almost round the clock.
Activists of the movement have already filed papers to become officially registered as a regional youth public movement. At the moment, the project involves 16 volunteers, who are already working on the streets. Some 60 more applications are being considered: Each applicant has to be vetted by the police.
"We do not have any special requirements. The main thing is that a volunteer should be over 18, should have no criminal record, and should be more or less strongly-built so that we don't end up rescuing him too. Our volunteers are all quite sporty types, there are several professional athletes among them, including one boxer. We have also had applications from female drivers offering to give a lift to other women after dark," says Novosyolov.
Most calls for help come from young women aged between 18 and 30. "Tonight we have received five calls. On average, we get 6-12 a day," Novosyolov continues.
Well-coordinated
Calls are taken from 5 p.m. till midnight. Volunteers have an office with a landline and a coordinator on duty, whose task is to control volunteers' work and receive feedback from clients. In addition to the volunteer responsible for a particular escort assignment, there are usually five to seven other volunteers nearby, who are ready to come to rescue in the event of an emergency.
Over the course of a week after the project was launched, some 1,200 people registered in the movement's social network groups. In future, volunteers plan to expand their scope, helping all those who may have found themselves in a difficult situation. To that end, they are already in talks with several charity funds.
A similar public movement already operates in St. Petersburg and Chelyabinsk (1,494 km from Moscow) under the name of Brother for Sister.
First published in Russian in Rossiyskaya Gazeta.
All rights reserved by Rossiyskaya Gazeta.