'In the Kremlin all dishes must be adapted to the contemporary mood'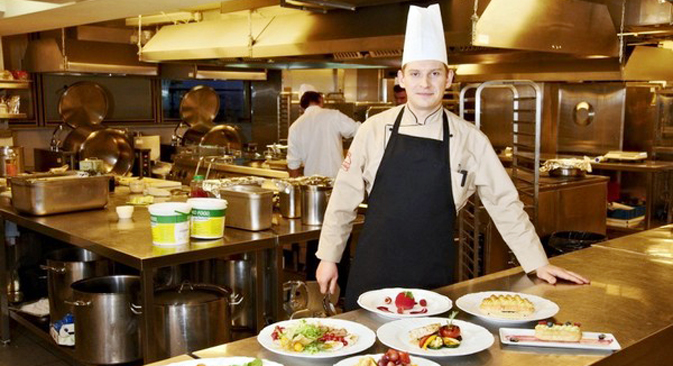 Konstantin Makridin. Source: Restorate.ru
Konstantin Makridin, head chef of the Kremlin kitchen, discusses what the powerful like to eat. And how to please the president.
Interview Russia: Why did you decide to become a chef?
Konstantin Makridin: I never finished the 11th grade. After ninth grade my friends and I took preparatory courses to enter college. After studying for four years and graduating from college I entered the Plekhanov Economic Academy and finished in 2000.
I had a lot of experience with Italians at the Cosmos Hotel restaurant. Back in the day it was very popular, but when I was working there it looked like a factory with minimal service and a tough schedule. Up to 3,000 people could come for breakfast and all the food was placed on a buffet line on steel trays. Then I worked at the Renaissance Monarch Centre Hotel. But after a few years at the Renaissance I realized that I had to continue to improve and it was then that my acquaintances suggested that I work at the Kremlin plant.
I.R.: Plant? That sounds horrible.
K.M.: But it really is a plant. It is the largest catering plant in Russia. There are more than 600 people on staff. Can you imagine how many people we feed? We feed places such as the Bolshoi Theater and Staraya Square, where the Presidential Administration is located.
I.R.: How does safety control work?
K.M.: It's difficult. There is a category of products that I cannot use. For example, I can't use nuts and honey as they are considered taboo. Or white mushrooms. I personally love them, but I can't include them in a reception menu because they may contain carcinogens, radiation and other similar elements.
For official receptions each product is subject to control. Two days before a banquet I show the fish and the meat, and one day before - the fruits and vegetables. Doctors from the Federal Protective Service come before each reception and take a sample of each product for inspection. If something does not pass the inspection, I must immediately change it. While I cook they sit in the kitchen with me and watch.
I.R.: What about cooking standards? I know that in Europe meat can be cooked at lower temperatures than in Russia.
K.M.: In any European hotel the temperature for cooking a medium-rare steak is 50-55 degrees, and for a medium steak - 60 degrees. According to our standards, this won't do, because our old doctors say that meat with blood is not fully cooked. But that is the way you eat a real steak.
We have our doctor and her standards are her standards. Sure, we argue occasionally about the meat. She looks at it and says: "Again you haven't finished cooking the veal!" And I tell her: "Lyubov Ivanovna, if I finish cooking it, it won't be edible. It will have a gray, brownish color." Why? As it is now it is delicately pinkish, pretty and delicious. We use sous-vide, a method of cooking at low temperatures in vacuum sealing. At low temperatures the muscle fiber does not contract sharply. It cooks slowly, it languishes. There are many such nuances.
I.R.: Do you look for old Russian recipes in order to impress guests during receptions?
K.M.: Yes, of course, but in the end I rarely use them. We travel throughout Russia often. In the last year I've been in Kazan and in Sochi. In September we were in Astrakhan feeding journalists. One of our tasks was to study the tastes of Astrakhan before creating the menu. For example, sterlet is popular there, which means that it must be served. Also we wanted to use popular cheeses and local vegetables. But the dishes must be out of the ordinary.
I.R.: What do you recommend as a hors d'oeuvre to accompany vodka?
K.M.: There is nothing better than herring on Borodinsky bread, pickles or bliny (Russian pancakes) with caviar. For example, when I was in France taking a master class I had to salt the cucumbers myself, which is why I had to bring currant leaves and dill. You can't find these things in Paris.
I.R.: Are you planning on participating in any international gastronomic events in the near future?
K.M.: Yes, there are a few offers that I'm considering. For example, recently I was invited to a Club des Chefs des Chefs conference. I was presented as Putin's head chef. But actually I am not his personal chef - he has his own man. I cook for Putin only when there is some kind of big reception.
I.R.: Do you have a favorite cuisine?
K.M.: Azerbaijani or Georgian, foods with a pungent flavor. The way they do it, no one can. Once I saw how one Georgian, a professional boxer, was kneading dough for Khinkali. He was sweating blood. What an effort!
All rights reserved by Rossiyskaya Gazeta.