Reality show about adoptive families suggested to dispel myths about adoption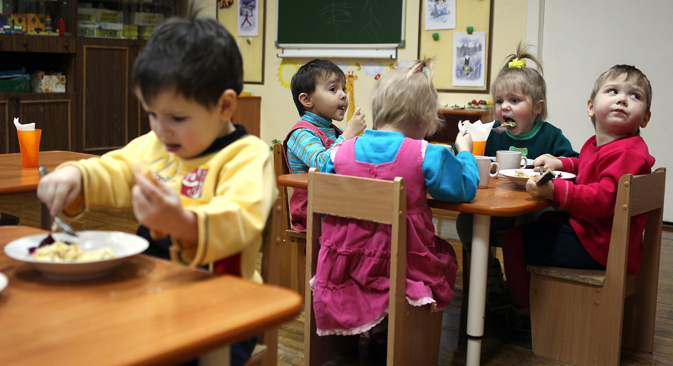 The number of children placed in foster families grew by 2.4 percent – from 61,400 in 2012 to 62,900 in 2013. Source: Konstantin Chalabov / RIA Novosti
The Russian Civic Chamber has asked federal television stations to create shows about adoption.
Yulia Zimova, a member of the Russian Civic Chamber and director of an adoptive family support project called Vanechka, has proposed that Russian television channels create shows directed at potential adoptive families. The project is tentatively titled, "Special Forces for Adoption."
In her plea, Zimova asks federal television channels to consider a variety of formats, including reality shows, talk shows and telethons. In her opinion, such programs are needed to popularize family-based care for orphans and children without parental care.
"Unfortunately, storylines about adoptive children are usually created by low-budget TV channels and radio stations," Zimova said. "We think it's time to compel large TV channels, particularly state-owned ones funded by taxpayer money to cover such socially significant topics…If good screenwriters, directors and producers take this on, I am sure they will be able to find a format that viewers find interesting."
Civic Chamber members and volunteers for the Vanechka project are ready to assist the television channels.
"We have a whole database of families with adopted children who are willing to participate in the TV programs, even in a reality show," Zimova said. "Some of them would allow TV stations to install cameras in their homes so we can plunge into the lives of several adoptive families from various parts of the country. Additionally, we also have foster families, as well as foster children that are interested. Many people don't know much about these forms of care in a family."
Anatoly Lysenko, CEO of Public Television of Russia said he was aware of the Civic Chamber's idea.
"This is an important and necessary topic that requires high-quality solutions," Lysenko said. "Television without social responsibility is a dangerous thing. Whether or not that type of show would interest viewers depends solely on the talent of the people who make it. But what I sometimes see on our TV channels is speculation on human grief and tears, and we don't need that."
Russian Presidential Commissioner for Children's Rights Pavel Astakhov agrees that the media needs to allocate more time to discussing adoptive families in an honest way, because adoption is becoming more widespread every year.
"Many people think that adoptive families are only poor families, but that is far from the truth," Astakhov said. "It's always interesting to listen to those who are willing to openly talk about their family and to see how those families live and share their happiness. But if they [the TV channels] do something, it should really be done nicely, not cause a storm of criticism, and be clear and honest."
Astakhov added that an album called, "Russia Without Orphans" was produced in 2012 in conjunction with the newspaper Rossiyskaya Gazeta. It featured several adoptive families from each Russian region. The list of those families was later distributed to federal television stations, but few storylines came out of it.
According to the latest data from the Russian Ministry of Education and Science, the number of newly identified children without parental care continued to decline in 2013. However, the number of children placed in foster families grew by 2.4 percent – from 61,400 in 2012 to 62,900 in 2013.
First published in Russian in Izvestia.
All rights reserved by Rossiyskaya Gazeta.