Founder of project to aid LGBT teens fined by court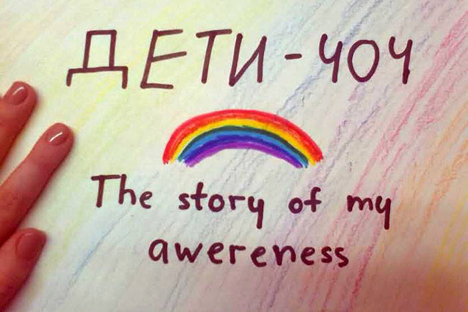 Children-404. Source: www.facebook.com/children.404/
Children-404 project falls afoul of "gay propaganda" law.
Yelena Klimova, the founder and administrator of the Children-404 project, which offers advice and support to LGBT teens, has been fined 50,000 rubles ($770) by a court in the Urals region town of Nizhni Tagil.
The ruling was handed down on Friday, Jan. 23. On her Facebook page, Klimova wrote:
"I was found guilty of violating part 2 article 6.21 Code of the Russian Federation on Administrative Offenses ("Propaganda of the nonconventional sexual relations among minors)". Verdict: penalty of 50,000 rubles. We will challenge."
The fine was made in response to a claim by media watchdog agency Roskomnadzor, which first targeted the group in November, noting posts on the organization's website and in social media.
Among the complaints Roskomnadzor made against the group was that Klimova, a professional journalist, did not have the necessary training to help LGBT teens. Rather, according to the agency, the organization should have "professionals – qualified teachers, psychologists, physicians, lawyers have to be engaged in problems of socialization of teenagers, their growing and personal self-determination."
The Children-404 project was founded in March 2014.
The pro-Kremlin movement Young Guard (Molodaya Gvardia), part of the ruling United Russia party, said that it would submit an official request to the general prosecutor's office to block the website of Children-404.
Ilya Podsevatkin, a member of the Young Guard Coordinating Committee, posted a note on the Young Guard website: "We repeatedly said that children with nonconventional sexual orientation certainly need help, but professional experts have to render it. First of all, administrators of similar communities have to carry out the current legislation. If the initial purpose of the project is psychological support of such children, let [the project] be engaged in it, but don't try to cover promotion of nonconventional sexual relations with good intentions."
Mikhail Fedotov, chairman of the Presidential Council for Civil Society and Human Rights told Russian daily Vedomosti that he doesn't know facts of the case. However, he notes that establishment of guilt requires proof that the site and its administrators had a direct intent to promote nonconventional lifestyles.
"If it is known that this site was created to help children to decide on sexual orientation, but not to propagandize something, there is no illegal intention. Therefore the court always should look at what the intention is," Fedotov said.
He added that the Human Rights Council had expressed concern about this part of the administrative code from the time it was proposed.
On Jan. 21, supporters of Children-404 set up an online petition calling for Prime Minister Dmitry Medvedev to protect the group.
This article was based on reporting from RBC Daily and Vedomosti.
All rights reserved by Rossiyskaya Gazeta.