Vodka just got cheaper for Russians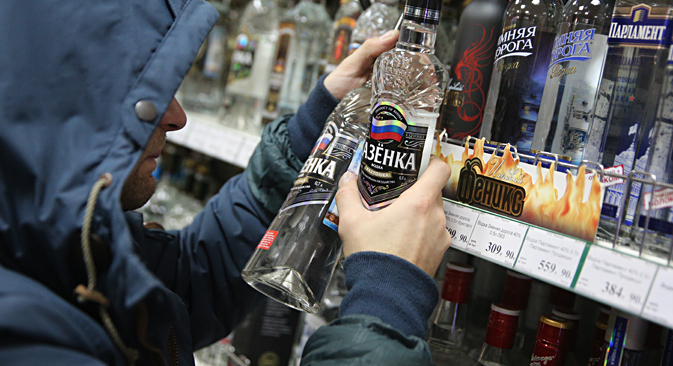 The minimum price of vodka in Russia decreased by 16 percent. Source: Mikhail Pochuev / TASS
As of Feb 1, the official minimum price of Russia's best-known alcohol drink has gone down 16 percent – the first price drop since 2009.
As of Feb. 1, the minimum price of vodka in Russia decreased by 16 percent, from 220 to 185 rubles (from $3,2 to $2,7) per 0.5L bottle. This is the first time the price of vodka has fallen since 2009. Last year, the price of vodka increased twice – in March, when the minimum price was 199 rubles ($2,9) per 0.5L bottle and in August, when the price went up to 220 rubles.
Prices for cognac and brandy, which are set by the same state regulator, remained at the same level as in 2014: 293 rubles ($3,5) per 0.5L for brandy and 322 rubles ($4,7) per 0.5L for cognac.

"The logic of the government, which is reducing the minimum vodka price, is understandable: now that household incomes are falling, it is setting lower prices, assuming that more bottles will be sold, even if less revenue is paid into the treasury from each bottle," senior researcher at the Russian Presidential Academy (RANEPA) Vadim Novikov told Russian news agency TASS.
According to Novikov, the government "is trying to find an optimal price," but in this case it is a matter of economic expedience rather than the struggle against alcoholism.
The practice of setting a minimum price for liquor in Russia came into effect in 2009 as part of a drive to cut down on black market sales of alcohol. According to the government commission on the regulation of the alcohol market, the losses brought about by this shadow economy are estimated at 30-50 billion rubles per year.
Meanwhile, according to a survey by the All-Russian Center for Public Opinion (VTsIOM) published in February 2014, only one-third of Russians said they would not pay more than 199 rubles for a half liter of vodka. Of these, 40 percent said they would not pay more because they do not have enough income.
The survey also noted that the most popular alcoholic beverage among Russians is beer and not vodka. Beer is consumed at least once a week by 12 percent of those surveyed. Another 28 percent said they drink beer each month.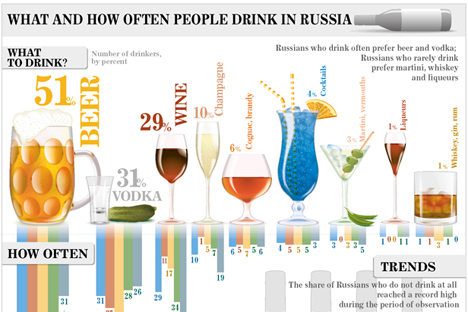 Click to enlarge the infographics
Russians are drinking less wine (26 percent), as well as less vodka and moonshine (20 percent). The least popular alcoholic beverages, according to the poll, are cocktails and cognac, with 80 percent and 60 percent, respectively saying they had never tried these drinks.
All rights reserved by Rossiyskaya Gazeta.