A year after the Olympics: What does Sochi look like now?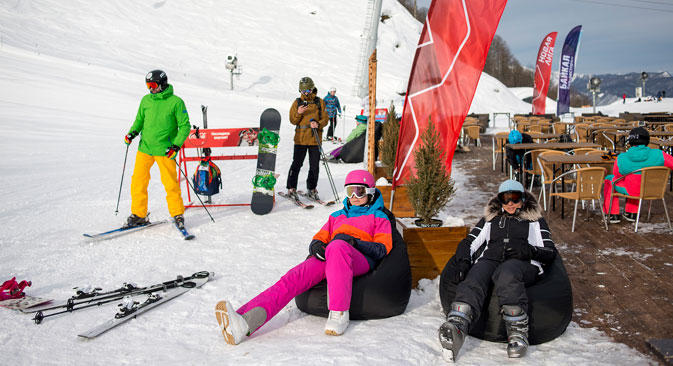 International media outlets predicted that post-Olympic Sochi would become a ghost town. Today, a year later, that prediction hasn't come true. Paradoxically, the current financial crisis has helped the ski resorts built for the Games to grow. Bryan McDonald reports from the Black Sea city.
The Treugolnik rock club in the southern suburb of Adler, not far from the airport, is so packed you'd have to be a sardine to feel at ease. It's mid January, Sochi has had its first coastal snow fall in four years, and the long Russian New Year holiday is just about over.
Two blondes straight out of Moscow 'central casting' are propping up the bar, sipping fancy cocktails. They both have Louis Vuitton bags, possibly fake. The presence of such characters, usually found taking a winter break in central Europe, Bali or Goa, is telling. "It's like we fell asleep in the USSR and woke up in Santa Barbara," quips a wizened local Heavy Metal devotee standing nearby.
British-Indian singer Peter Sarstedt comes on the sound system with his legendary ditty 'Where Do You Go To, My Lovely?' It's my request, an attempt at humour.
Switzerland's St Moritz is having a tough winter. The Swiss franc has jumped by a third or more against the euro after the national bank removed a cap on its exchange value and Russians on Swiss ski slopes are melting away like snow in spring. Up to 10 percent fewer this year, according to the famous Kulm Hotel.
Weak rouble
Wealthy Russians are swapping Klosters for Krasnaya Polyana, it seems. A weak rouble, President Putin's call for Russians to holiday at home and Sochi's new winter sports facilities, the equal of anywhere, are all factors attracting more tourists. The numbers flocking to the 25 miles of ski slopes and trails is stretching the maximum daily capacity of 10,500 people to the limit.
Sochi business people can't believe their luck, at least those who did not lose their homes or property under controversial compulsory purchase orders during the Olympic building works. Not long ago, the world's media warned that Sochi would become a 'ghost town' after the Olympic circus packed up and left. It seems the opposite is true.
It is not all plain sailing. The coastal cluster, the centrepiece of the games remains eerily quiet on non-event days and some apartment buildings have been halted in mid-construction.
Dmitry Bogdanov, director of Sochi's Znanie sanatorium, claims the city cannot cope with more visitors. "The country as a whole needed new tourist facilities. Alas, due to a lack of experience in managing such a huge infrastructure in the resort, there are some problems with capacity and ensuring profitability," he says.
"I remember Soviet times when more than 1.5 million a year came. A couple of years ago, there were only 50,000 tourists - it's clear that we have room to grow."
White elephant
The Olympic stadium cluster, dismissed while it was being built as a future white elephant, seems to be deserted most of the time. But Andrei Ponomarenko, owner of the G8 language service company, who is heavily involved in promoting Sochi's international ties, says appearances are deceptive.
"The Bolshoi Ice Dome is attracting between 7-9,500 fans for every Sochi Leopards (the local professional Ice Hockey team) game. The Channel One Cup was held there in September with teams from all over the world," he says.
"The Shaiba Ice Palace is hosting Circus Du Soleil in February and the Iceberg held a musical which just ran for six months with five shows a week."
The polyglot elaborates: "The Speed Skating centre is now a year-round tennis academy and other venues have held events like the World Chess Championship, economic forums and different exhibitions. Interestingly, the sea cluster's hotels were not full for the Olympics but they were last autumn for the Russian Formula 1 Grand Prix."
International brand
The biggest problem in Krasnaya Polyana this winter has been overcrowding. Hotels were fully booked long before the New Year holidays. The authorities were forced to take measures to discourage too many visitors.
Prices for six-day ski lift passes were increased to 13,500 roubles/£137 and eventually restricted to hotel residents only. The city government even ran TV advertisements in December urging locals to stay away from the mountain resort in January to avoid overcrowding.
Bogdanov says the rouble's recent halving in value against the pound, euro and dollar is a godsend but reckons it won't last. "Some people gave us a chance this winter as the financial situation was a factor in their travel plans. It remains important that we provide them with a level of service that will encourage them to return. That is the challenge."
All rights reserved by Rossiyskaya Gazeta.