Putin supporters happy to wear their hearts on their sleeves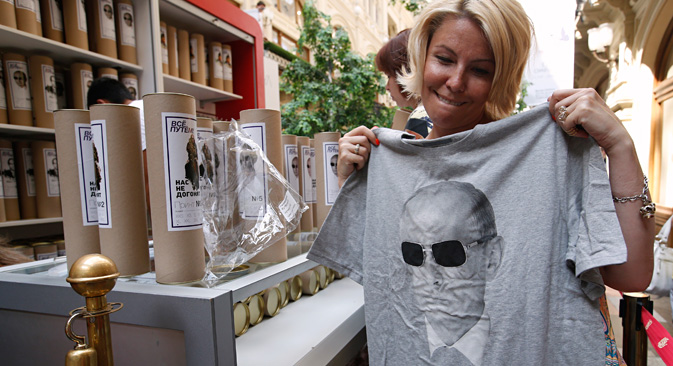 T-shirts can be purchased in the upscale mall GUM on Red Square as well as from vending machines at Vnukovo Airport. Source: Reuters
Survey shows positive attitude increases towards Putin-themed merchandise. However, according to a recent survey more than 70 percent of Russians aren't interested in Putin-themed merchandise.
In the midst of Russia's general economic downturn, there is one product appearing with more frequency on store shelves – T-shirts emblazoned with the image of Russian President Vladimir Putin. They can be purchased in the upscale mall GUM on Red Square as well as from vending machines at Vnukovo Airport.
According to a poll conducted by the Levada Center polling agency in late February 2015 (view the infographics below), the number of Russians who believe that t-shirts and other memorabilia with Putin's image strengthen the president's authority has more than doubled since the last time such a poll was conducted, in 2006.
Kirill Karavayev, the creator of the company Design Ministry, which produces T-shirts with pictures of politicians, told RBTH that his company came up with idea of clothing featuring the image of Putin after Crimea's absorption by Russia.
"A wave of patriotism swept over the country. We decided that we also should reflect this trend in our products. That's how the first Vladimir Putin print devoted to the Crimean theme appeared," Karavayev said.
Later, the "patriotic line" was updated with new images of the Russian president and other political leaders, including t-shirts with Foreign Minister Sergei Lavrov and Russia's permanent representative to the UN, Vitaly Churkin.
In the interview with the Izvestia newspaper after the publication of the poll, Levada Center sociologist Karina Pipiya said that the appeal of products with Putin's image is likely tied to the president's overall high popularity and policy decisions.
"Another of our recent polls showed that the president's approval rating is high at the moment, in connection with the approval of his foreign policy towards Ukraine and in reaction to Western sanctions," Pipiya said.
Market saturation?
While demand for the shirts grew throughout 2014, Karavayev said that sales have stabilized and even fallen off. "The first anniversary of the acquisition of Crimea will be on March 21, and we hope that the demand for T-shirts will grow a little," Karavayev said.
However, maybe Karavayev and other sellers have reached all those interested in purchasing such a product. Although the number of Russians who believe the practice is positive has doubled, it is still only 28 percent. Additionally, only 16 percent of respondents said they want to buy a shirt but haven't bought one yet. Seventy-two percent aren't planning to buy one at all.
"Of course, it's mostly people who are loyal to the government and support the policy of the president that buy such products. By doing this, they want to express their position," Karavayev said.
Anastasia, who works in a shop selling patriotic merchandise said that demand for T-shirts with Vladimir Putin is stable. "Of course, some buy them as gifts, some as souvenirs for friends abroad, but mostly everybody want to buy something for themselves," Anastasia said.
Lydia collects T-shirts with Vladimir Putin. She told RBTH that the she bought her first shirt as soon as clothes with the president's face started to appear. "It's fun to meet strangers in the same T-shirt," she said. Lydia wore a T-shirt saying "Greetings from Crimea" in a student camp in Switzerland, where there were many foreigners: the reaction was diverse, she says, but mostly positive. "My friend wears a T-shirt with Putin in the U.S., and people are absolutely quiet. Like me, he is proud of the country," she said.
Pyotr bought a T-shirt with Vladimir Putin just recently. "I wore it twice already, everyone likes it, and it seems like I'm always in the spotlight. I plan to make a trip to Europe soon, and for sure I'll take the T-shirt along. Let everyone see where I came from," he said.
One person not likely to be caught in a Putin T-shirt is Putin himself. Presidential spokesman Dmitry Peskov said in November that Putin isn't thrilled with use of his image on memorabilia.
All rights reserved by Rossiyskaya Gazeta.