Dictation in Russian to be held in more than 50 countries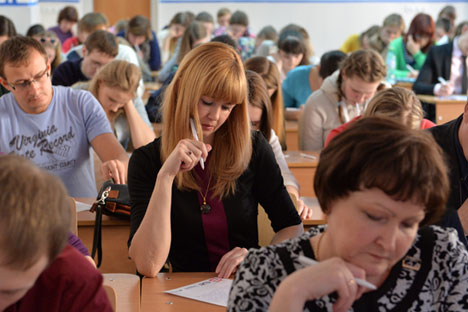 Each time the text for the dictation is written by a famous contemporary Russian writer. Source: Alexay Malgavko / RIA Novosti
100,000 people are expected to participate in annual literacy test. Dictation in New Delhi will be held on April 18.
The annual Total Dictation event, which tests Russian literacy, will take place in April in more than 50 countries around the world.
The organizers of Total Dictation, an event aimed at testing Russian literacy worldwide, say that this year more than 100 platforms from 52 countries will participate in the event, and their number is growing.
The organizers estimate that this year the dictation will be written down by more than 100,000 people (in 2014 there were 65,000 - RIR). They say that the aim of the event is "to give everyone the opportunity to test his or her knowledge of the Russian language and to increase their level of literacy."
"I wish to remind everyone that this is not a political project, but rather a civilian initiative, organized completely by volunteers, and everyone, in any part of the planet, can apply to participate," said project manager Olga Rebkovets.
Total Dictation was created at the beginning of the 2000s in the Club-Club student club at the Humanities Faculty of Novosibirsk University and has been taking place annually in Russia since 2004. Since 2011 it has also been held abroad.
During the dictation the participants gather in schools, universities, libraries, cafes – or sometimes just outside – and write on a piece of paper by hand.
Each time the text for the dictation is written by a famous contemporary Russian writer. This year it is the author of novels Soloviev and Larionov and Lavr, Yevgeny Vodolazkin. Past authors have included the likes of Dmitry Bykov, Boris Strugatsky, Zakhar Prilepin, Dina Rubina and Alexei Ivanov.
In 2014 the dictation was taken in all seven continents. The northernmost point was the settlement of Dikson in Taymyrsky (Russia), while the southernmost point was the Antarctic scientific station of Vostok. The westernmost point was San Jose, California, U.S., and the easternmost one was Auckland, New Zealand.
Preliminary registration for those wishing to take the dictation will start on April 7 on the project's site.
For further information, please contact organizers by email: russianhouseinindia@gmail.com.
All rights reserved by Rossiyskaya Gazeta.