Edward Snowden's Russian lawyer writes novel inspired by client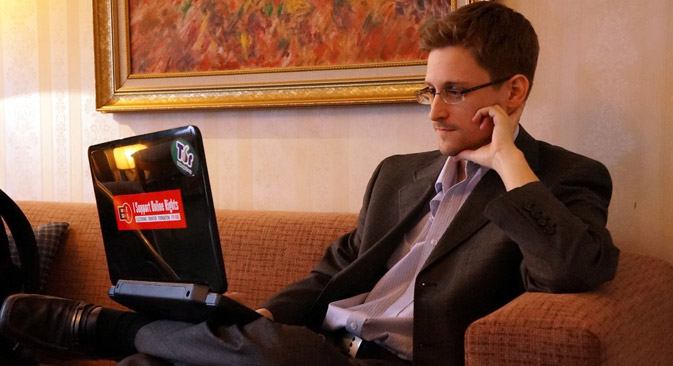 Edward Snowden. Source: Getty Images / Fotobank
Anatoly Kucherena, U.S. whistleblower and former CIA employee Edward Snowden' Russian lawyer, has published a detective thriller in Russian called "Vremya Shpruta" ("Time of the Octopus"), whose protagonist is based on his client. All the characters in the book have fictitious names, but Kucherena said that "some of the facts in it are true" at a launch event for the novel. The film adaptation of the book is already in the making, with Oliver Stone as the director. RBTH spoke with the lawyer about the book, Snowden and Hollywood.
RBTH: You are always busy. We've been trying to meet you for a month and a half. How did you find time for the book?
Anatoly Kucherena: I wanted to sound off after everything that was dumped on me in connection with Edward. Sometimes I locked myself in my office for a couple of hours, but mostly I wrote at night until three or four in the morning. I wrote it while the trail was still warm; the book was finished as early as in November 2013. But Oliver Stone, producer Moritz Borman and I have decided that it will not go on sale until filming starts.
RBTH: Has Snowden already read the book?
AK: Yes, he liked it [Snowden read the manuscript in English translation – RBTH]. I spend a lot of time with him. It's important for me to understand him as a person who is a product of American democracy, a man who was born, grew up and lived a life there, and – unafraid of anyone – challenged the powerful U.S. special services. He became a hero to me and, I think, not only to me. He plucked up the courage and began to protest against the system; he did it solely due to his ideological and inner convictions, and there was no money involved. So I couldn't help writing such a book.
RBTH: How is your client now?
AK: He does not complain, he lives a full life and has the same rights and freedom as we Russians have, no problems here. He has received a residence permit. His girlfriend, whom he met when he was still there [in the U.S.], visits him, they have a great relationship. Of course, he misses America, his relatives. He would like to go back there, but he cannot because he does not hope for a fair trial. His case is exclusively political. We hear only comments from the U.S. State Department, politicians, which are intended solely to insult and humiliate his honor and dignity.
RBTH: Not so long ago, the State Department spokeswoman, Jen Psaki, complained in an interview with the television channel Dozhd about the political difficulties in Russian-American relations, calling the Snowden case one of the stumbling blocks, and urged him to return to face a fair trial.
AK: Of course, they are dreaming about it. But it is clear that with the current position of the State Department and the U.S. president there is no hope for a fair trial. You must admit that even if the prosecutor will not ask for the death penalty, the mud that has been slung at Snowden at home will, like it or not, influence the jury. Because jurymen, too, read newspapers, watch television and take interest in the position of the State Department and the president.
RBTH: How did you contact Stone?
AK: I once heard his stance on Snowden and realized that if someone is able to adequately tell the story and film the book, he is the only one. That's how the idea was born to show him the manuscript. Oliver was then in Hong Kong. To meet him in Moscow and speak about it in detail, in addition to organizational issues, I managed to arrange that he read my book [translated into English] on his way. So when he arrived in Moscow, he was ready to discuss the script.
RBTH: You've already been to the filming. How is it going?
AK: I was delighted with the work of the crew! It's incredibly organized! There are about 120-150 people onsite, and they all perform their duties precisely. When the director calls "Action!" you can hear a pin drop. It's amazing how the director works, how he deals with actors and controls the process. I've never heard Oliver raise his voice. Edward is played by Joseph Gordon-Levitt. He looks a lot like him.
They are currently filming in Germany. They planned to shoot in Moscow, but it is not yet finally decided. I think they'll finish in April or May and start editing. The film is scheduled for release on December 25.
RBTH: Are you planning to have the book translated into other languages?
AK: Yes, I am working on it now. I've been already contacted by the Chinese. It will also be translated in Italy, Serbia, Bulgaria, France, the United States and Britain, Libya and Iran.
All rights reserved by Rossiyskaya Gazeta.