Russian diaspora life thrives in Pattaya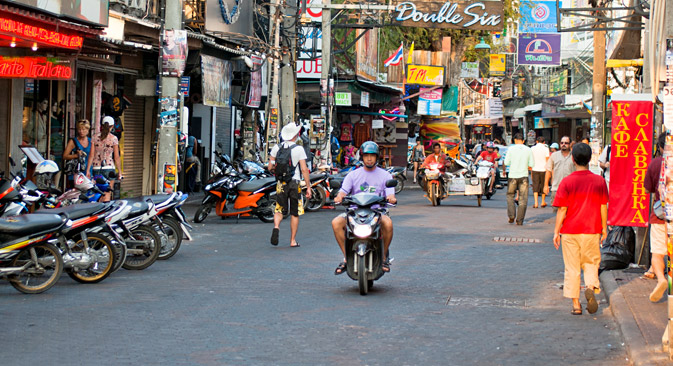 Source: Lori/Legion Media
The Thai resort town is home to a thriving Russian diaspora. A new industry has come up around servicing the expatriate community.
The sheer number of Russian-language shop signs and billboards that dot the city of Pattaya can take a casual visitor by surprise. Over the last ten years, the Thai tourist resort city has become one of the most Russian cities in all of Asia, with a Russian expatriate population that numbers around 110,000.
One of the pioneers of the large Diaspora is Mikhail Ilyin, the owner of 8 Horseshoes Tavern, a restaurant specialising in Russian and Central Asian food. "Our clientele includes expats from former Soviet republics as well as Thai and foreign tourists (especially Japanese), who want to get a taste of Russian cuisine," says the restaurateur, who also runs Ilves Tour, which brings in Russian tourists to the city.
Ilyin has been living in Pattaya for the last 20 years and has seen the changes that have taken place in the city. He says there was a time when very people spoke Russian, but now it wasn't uncommon to hear the language even in the distant outskirts. "l no longer feel that I am living in Thailand."
Several attempts to run a Russian language paper failed in the city, but there is a popular real estate magazine called Pod Klyuch (a way of saying ready for sale in Russian), with a monthly circulation of 7000. Along with the magazine, there is an entertainment supplement called Mango, which covers the Russian social scene.
Russian culture and the Russian language are considered 'vogue' in the city, and people from different parts of Asia try and get a taste of Russian culture in Pattaya. There are 2 Russian Orthodox churches in the city, one that is attached to a small Russian settlement.
Architect Paradorn Bunyakurloj started learning Russian so that he could work on projects meant for Russian realty investors and vacationers, but has now fallen in love with the culture. "Russian people are so misunderstood here, especially since they don't smile so easily and take time to know people," he says. "But the cultural barriers are vanishing and we see a lot more interaction at the social level," the architect adds.
In September, the city will play host to the Miss Russia in Thailand contest, which is being organised by Boris Fleydervish. "Around 20 of the most beautiful Russian women in the country will take part in the first contest of its kind," says Fleydervish, a resident of Pattaya since 2000. The Thai media has also shown quite a bit of enthusiasm for the contest, he adds.
Although Thailand is a relatively easy place to come for a holiday, legislation for longer stays can be complicated says Fleydervish, whose main business is in the real estate. "Since people are allowed to buy flats, they come and stay here for half a year, as tourist visas permit them to," he says. A large number of Russians spend the entire tourist season in the city with their families.
Sochi native Irina Novikova, director of Seven Flowers Co Ltd, runs Russian-language kindergartens in Pattaya and Bangkok. Russian expatriates enrol their children in international schools in Pattaya, since there are no Russian-language schools. Novikova's kindergarten organises cultural and entertainment programs and also employs speech therapists and other experts to make sure that the children get a good base in learning the language.
"We try and inculcate the Russian language, culture and traditions in children," she says, adding that she's happy doing what she enjoys in a distant country.
First published in RBTH print supplement published with The Nation newspaper in Thailand in August 2014
All rights reserved by Rossiyskaya Gazeta.