Law needed to save Russian women from domestic violence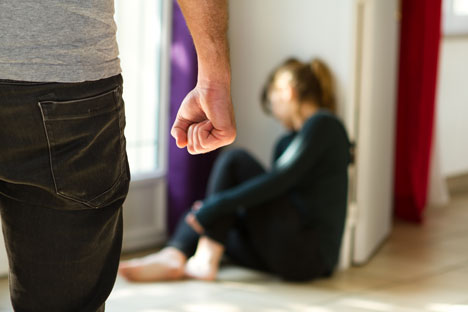 Every year, 14,000 women die from torture at the hands of husbands or other close family members. Source: Shutterstock / Legion Media
The story of Russian journalist Anna Zhavnerovich, who suffered violence at the hands of her boyfriend, has yet again drawn the public's attention to the problem of violence against women in Russian families. Despite the troubling statistics, Russia has yet to pass a law that would deter domestic violence.
The issue of domestic violence regularly rears its head stirring controversy in Russia. A massive public outcry followed recent stories about journalist Olga Timanova, who was featured on the Goodbye Normals project with Nikita Diomin. During their round-the-world trip, Diomin routinely beat Timanova. Stories about the actress Ekaterina Arkharova suffering beatings by her husband and fellow actor Marat Basharov and the model Eugenia Vavrinyuk, an ex-girlfriend of Semion Varlamov, also suffering physical violence has caused outrage.
A new cause for outrage
In early April, the problem of domestic violence was highlighted when WOS journalist, Anna Zhavnerovich, published an article with a detailed account of how she was beaten by her ex-boyfriend.
She was shocked to learn the statistics; only 4% of Russian women who suffer domestic violence request medical assistance, and only one half of that 4% complains to the police. Anna herself went to the police, but her efforts went waste. The official to whom she complained refused to formally initiate criminal proceedings. Zhavnerovich intends to appeal that decision.
While many people feel sorry for victims of domestic violence, there are many who also blame the women. They are often accused of having provoked that kind of inhumane treatment.
A popular yet outrageous Russian saying; "If he beats you, it means he loves you;" is offered as justification to perpetuate the violence.
According to statistics from the Ministry of the Interior for 2008, there are manifestations of violence in some form in one out of four Russian families (the police do not have more recent statistics.)
Every year, 14,000 women die from torture at the hands of husbands or other close family members. According to the "Domestic Violence" crisis centre for assistance to women and children, 40% of all violent crimes are committed within families. However, 70% of the victims never seek help, and 97% of cases of domestic violence never reach the court.
Psychologists believe that it is the fear of being condemned by society that forces the majority of women in Russia to keep quiet about the domestic violence they suffer. An example is the story of Irina, an economist, who quietly suffered beatings from her husband for years.
"I could not talk to anyone about this because I was ashamed. When my mother-in-law asked me how I got so many bruises on my body, I preferred to lie," Irina told RIR, adding, "I also refused to admit to myself that this was actually happening to me. I tried to forget everything and continued living with my husband as if nothing had happened."
Prove it yourself
According to data from the centre for the prevention of violence "Anna", a Russian woman is 2.5 times more likely to be killed by her husband or partner than an American woman and 5 times more than a Western European woman. Domestic violence prevention laws have been implemented successfully in over 100 countries, including India. Studies indicate that the number of incidents of domestic violence have decreased, on average, by a third, in countries that have passed such laws.
Russia has yet to pass a law to make domestic violence a punishable offence. A victim of domestic violence in Russia is now required to collect evidence, find witnesses, write complaints and monitor the progress of her review by various agencies. A domestic violence prevention law would have simplified this procedure considerably.
Mari Davtyan, a member of the work group drafting the relevant federal law at the Russian Ministry of Labour's coordination council on gender issues, said in an interview with the Afisha.Gorod magazine that a bill aimed at preventing not only physical but also economic, psychological, and sexual violence has been submitted for deliberation in Parliament 40 times since 1993, but has so far failed to get a single reading.
"What makes it difficult to push this bill through is that too many agencies are involved in this process and they take turns shifting the responsibility to one another," Davtyan said.
All rights reserved by Rossiyskaya Gazeta.