Russian brothers lend Thai police a helping hand on Phuket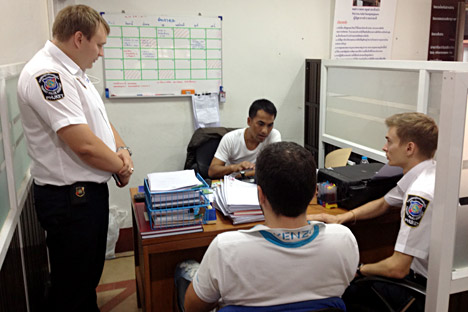 The Protasov brothers use their language skills on Phuket to build a bridge. Source: The Protasovs' personal archive
Thousands of Russians have left their homeland in search of a better life in the sunny climes of Thailand, but some have ended up not only living, relaxing and doing business in the so-called Land of Smiles, but also working for the good of society. RBTH found out how Igor and Alexei Protasov have been doing their bit to help out tourists and locals on Phuket.
Five years ago, brothers Igor and Alexei Protasov brought their families to live on the Thai island of Phuket, where they first ran a family construction firm, and more recently, a restaurant business. Now, however, Igor and Alexei devote a considerable part of their time not to business, but social activities, working as assistants in the Thai Tourist Police department on the island.
The two brothers are the only Russian assistants in the Thai Tourist Police department on Phuket, where they are involved in investigations if incidents occur involving tourists from various countries. These days they are called upon to settle minor misunderstandings with foreign tourists on Phuket less frequently, but at first, as ordinary volunteers, the brothers helped police deal with almost any incidents, most of which, according to Igor, happen because of misunderstandings.
"The biggest problem is the language barrier," says Igor. Fluent in English, German, Czech and Thai in addition to his native Russian, he and Alexei quickly became some of the most active volunteers and were invited to work at the Thai Tourist Police.
"We live here," says Igor, "so we should be involved in public life as well, to help in the best way we can. Of course, it is pleasant when those who we have helped say thanks, but this is not the most important thing."
From disputes to kidnapping
The majority of cases are based on petty theft, lost items, road traffic accidents, or simply disputes that involve locals and foreigners. In cases of misunderstanding, says Igor, where there is a possibility of reconciling the parties, the tourist police officers help resolve problems without bringing the matter to trial by reaching a settlement between the parties to the conflict right in the police station, but there are sometimes situations where court cannot be avoided – these being the more serious cases.
"Often there are times when there is clear evidence against foreigners – witnesses or surveillance camera footage. Despite this, out of fear they refuse to admit their guilt, and thus exacerbate their situation. In such cases, our task is to explain Thai laws to foreigners," says Igor.
The Protasov brothers have also taken part in the investigation of very high-profile criminal cases, such as the kidnapping of two tourists from Vladivostok, Alexei Slabinsky and Yana Strizheus, in March of this year. Igor was the first to speak to Strizheus when she was found, and the evidence he gleaned helped the police move forward in their investigation.
Igor and Alexei are often invited to work as translators in court when there are cases in which defendants or plaintiffs are foreign nationals. Although this is not part of their jobs as assistants to the tourist police, the Protasov brothers are always ready to provide help for the benefit of society and the law, the observance of which is a pledge of peace and security for both residents and visitors.
First published in the RBTH print supplement published with The Nation newspaper in Thailand in October 2014
All rights reserved by Rossiyskaya Gazeta.