Phuket: A home away from home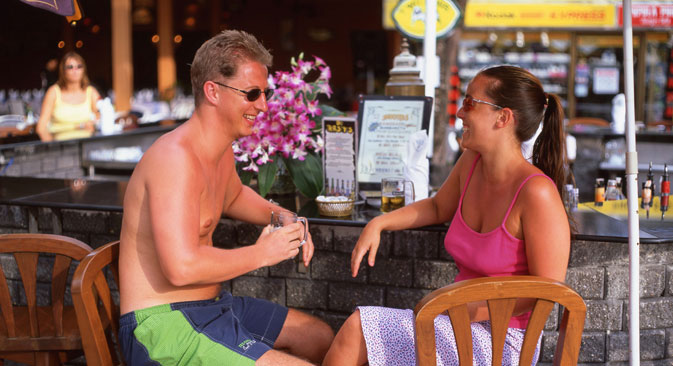 Source: Alami/Legion-media
With the economy showing signs of recovery and the rouble stabilising, Russian tourists are once again expected to throng Phuket. The Thai island is a home away from home for many Russians, and has a thriving expat community from Russia, estimated to number around 30,000.
Over the last 5 years, Russia has been the second largest source of tourists to Thailand. The fall in Russian tourist arrivals hit the Kingdom's economy very badly, but there is hope that the numbers will pick up by the end of the year. Phuket, though is more than just a tourist hot spot for Russians, for many it is a home away from home.
Viktor Borisov, a former academician in the Russian far-eastern city of Khabarovsk, has a second home in Phuket, a place where he spends more than six months every year. He is part of a community of Russians on the island that is estimated to be around 30,000. An entire industry has developed to service the Russian community on the island from day-care centres to restaurants to a Russian-language newspaper.
"Many people have enough cash flow from other sources from Russia or overseas to invest in the tourism business, including buying hotels, boats and restaurants," says Alexander Dashevsky, a businessman from Sakhalin Island. The 44-year old, who is a co-owner of a construction company in Yuzhno-Sakhalinsk, tried his hands at operating a full-time business in Phuket. "We bought a glass-bottomed speed boat and hydrofoil and came here in October 2011," Dashevsky said. "We were trying hard to get all the proper documents for business, but we got our tourist licence only at the end of January 2014." After they invested nearly $400,000, Dashevsky said his partner had a change of heart and wanted to exit the firm. Now Dashevsky is looking at importing salmon from the Russian Far East and exporting fruits and cosmetics from Thailand to Russia.
Other Russians complain about the immigration laws and the red tape for foreigners to start businesses on the island. "I have been waiting years to get licences to export flowers to Russia," but it is a painful procedure, much like in Russia, where palms need greasing," Borisov said.
Thunjira Wattaporn, a Thai diplomat who is originally from Phuket and served in Russia, says the authorities need to make the business climate friendlier to help those servicing Russian tourists. "At this time, with our political crisis, this is not on a list of priorities," she says, but adds that many people servicing Russian tourists are freelancers and are not paying Thai taxes despite what would be considered employment in the country. "These young people should be educated on our rules here," she adds.
The difference in Russian and Thai etiquette has often led to misunderstandings between locals and Russian expats. Wattaporn believes the cause of the problems is the language barrier.
Dashevsky says that more Russian people need to adjust to Thai culture. "Some of the Russians are very rude to other people, because they live the same way in Russia and they cannot understand cultural differences. And then when I speak with Thai people they are really amazed why I can speak English and smile." He says the best part of living on the island is the Thai culture, the people and their smile. "Phuket is a geographical crossroad, making it very cosmopolitan," Dashevsky says. "I want to give my son time and freedom to live in a different society other than Russia, He has a Thai 
baby-sitter and he can hear Thai, English and Russian and he is starting to speak all the languages."
All rights reserved by Rossiyskaya Gazeta.