Citizens and advocates split over Russia's human rights situation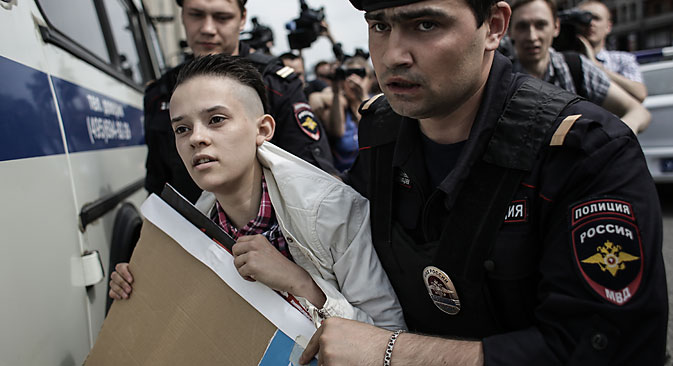 Police apprehend a participant of an unauthorized rally held by gay activists outside the building of the Russian parliament in Moscow, 2013. Source: Andrei Stenin / RIA Novosti
According to the annual report by Russia's human rights ombudswoman Ella Pamfilova, Russians believe that respect for human rights is improving, though human rights organizations say that the situation in the country remains concerning, with government attempts to "stifle civic society" by passing restrictive laws a serious concern.
Russia's human rights ombudswoman Ella Pamfilova has presented her annual report on the human rights situation in the country to Russian President Vladimir Putin. The document, which Pamfilova unveiled on May 7, concludes that public opinion on the matter is significantly different from assessments by human rights advocates.
As recent surveys by the Obshchestvennoe Mnenie (Public Opinion) polling organization have indicated, 45 percent of respondents in Russia believe the human rights situation in the country has been improving over the past years, with only 14 percent acknowledging a change for the worse. In contrast, Russian human rights defenders say that the situation has deteriorated.
'Russians consider themselves free'
The report reveals that over the past year, the ombudswoman's office received 59,000 complaints, which represents a 44 percent increase from last year, while the number of Russians who complained of their rights being violated overseas went up by 30 percent. At the same time, the number of cases in which the violations were recognized as having occurred increased by 2.5 times.
"Despite rebukes about 'curtailing democracy' coming from outside the [country's] borders, 69 percent of Russians consider themselves free people, and 64 percent of them believe Russia is better than other states in that respect," Pamfilova notes in her report. She could not be reached for further comment by RBTH.
In fact, Russians seem to be so optimistic about their rights that they do not even mind the fact that in the event that their rights do get violated it is pointless to take action (an opinion shared by 33 percent of Russian respondents).
However, according to the report, about 60 percent of people who asked for assistance in dealing with human rights transgressions say that a satisfactory outcome was achieved. In the end, it appears that the main problem the country faces is so-called "legal nihilism," described as "not knowing about one's rights and not being able to protect them, combined with indecisiveness," Pamfilova reports.
Activists beg to differ
"The human rights situation in Russia is still unfortunate – it has not got better or worse. Still, we see human rights issues discussed more often in various media," director of Moscow's Human Rights Bureau and member of the Presidential Council for Civil Society and Human Rights Alexander Brod told RBTH.
Lyudmila Alexeyeva, head of Moscow Helsinki Group, Russia's oldest human rights monitoring NGO, says the situation has been worsening for three years. "The State Duma [the lower house of the Russian parliament] is constantly passing laws that limit citizens' rights and are unconstitutional," she told RBTH.
Alexeyeva gives the example of the law forbidding "gay propaganda among minors," which is considered discriminatory by Moscow Helsinki Group, or the "vaguely formulated" law against insulting the feelings of religious believers, which "is used by Russian officials to curtail artistic freedom, as was the case with the production of Wagner's Tannhauser in Novosibirsk" (the production was canceled after complaints from local Orthodox activists, while both the director of the opera and the theater's managing director face charges).
Several international human rights organisations, including Amnesty International and Human Rights Watch, have recently voiced their concerns about the attempts to "stifle civic society" by the Russian government. However, in an interview with Rossiyskaya Gazeta, Ella Pamfilova said the Western organizations are mostly concerned with the problems of the country's LGBT community and NGOs, claiming that "these are issues that are not paramount for Russia's citizens."
Progress since Soviet times
Indeed, according to Pamfilova's report, the majority of Russians (52 percent) care more about their social and economic rights, civil rights being a priority for 39 percent of citizens, and political rights only for 9 percent. Lyudmila Alexeyeva says the 39 percent is a decent percentage for Russia.
"In Soviet Union, people didn't even know they had civil rights," she told RBTH, adding that during the 1990s, most Russians who got fired considered it shameful to try and challenge a wrongful dismissal in court. According to Alexeyeva, the situation has now changed. "In the short time since then, the legal awareness of our people has increased significantly. However, the country still has no political culture; too little time has passed," she said.
As Alexander Brod noted, Russians still prefer to solve their problems using the method known in the country as "manual control" – for instance, they would rather call the president during his annual live televised Q&A session than bring their problem before a court. This distrust of the executive hierarchy can be explained by "the fact that there is a clear refusal by officials to solve ordinary citizens' problems and an inability to solve them," said Brod.
All rights reserved by Rossiyskaya Gazeta.