Russia and New Zealand may be separated by distance but not by time. At the November 2010 APEC conference in Japan, then Russian president Dmitry Medvedev found himself seated next to John Key, the New Zealand prime minister.
Key, who sometimes behaves like a child in a candy store when meeting leaders of large nations, asked Medvedev how long it would take a Russian missile to reach New Zealand. The former Russian president asked a staffer who made a quick calculation. Medvedev turned to Key and said, "Twenty-two minutes," and added reassuringly, "but I will call you in advance."
Russian missiles may fly unopposed to the antipodes but Russians migrating to New Zealand have had mixed results. Because of the many past conflicts involving the Russian and British empires, New Zealanders came to view Russians as adversaries. During the Cold War days when New Zealand was firmly part of the Western alliance, these prejudices hardened. In fact, during the Russia-Georgia war in 2008, right wing talk radio hosts were frothing at the mouth, blaming the Russians for causing trouble in the Caucasus.
Russians are coming!
The Encyclopaedia of New Zealand, Te Ara, says that in the aftermath of the Crimean War in the 1850s, unannounced visits by Russian warships to the South Pacific created alarm in New Zealand. This fear was exploited in 1873 when a daily newspaper published a hoax report of a Russian invasion of Auckland, New Zealand's largest city, by the cruiser Kaskowiski (cask of whisky). The locals were alarmed to read the crew of the Kaskowiski had seized gold and taken the mayor as hostage.
In 1885, a full-blown Russian scare grew out of Anglo–Russian rivalry in Afghanistan and led to the building of major fortifications near coastal cities. Some of these fortifications can still be seen in Auckland's North Shore.
The first immigrants from the Soviet Union who came here were the pro-Tsarist White Russians fleeing the communist regime. During the Cold War days there were a few "ship jumpers" – defectors from visiting Soviet fishing fleets. However, the vast majority of today's 15,000-strong Russian community arrived after 1991 in the wake of the post-Soviet economic upheavals. It is this community that is now rapidly integrating, establishing clubs, cafes, restaurants and businesses.
Though Russians love to talk, not everyone was willing to speak freely for this story. Three families did. They represent three entirely different perspectives.
Olga and Alexander Barbin: Thumbs up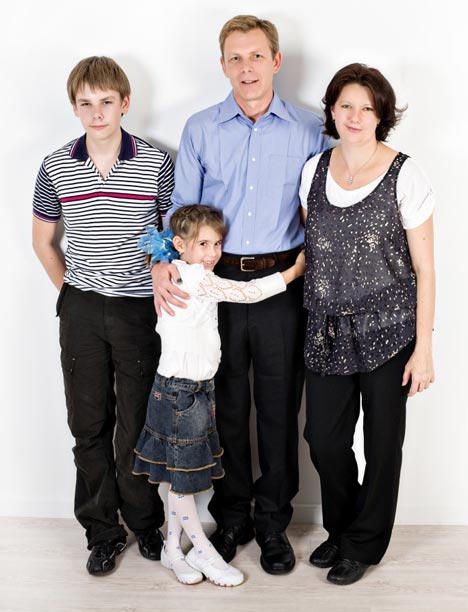 Alexander and Olga with their children Oleg and Dasha. Source: Personal archive
Olga Barbina arrived in New Zealand in 2007 with her husband Alexander and their children Oleg, 17, and Dasha, 8, from Khabarovsk, the second largest city in Russia's far east. It seemed like a good idea at that time.
Five years later, Olga and Alexander are still not sure they made the right decision. Their problem is nostalgia. "For Russians the family is extremely important, and nothing in New Zealand can make up for the absence of relatives and friends," says Olga. "Even after five years in New Zealand, it is hard for us to come to terms with the fact that we are living so far from what used to be our home."
To be sure, this Russian family hasn't had to endure many of the difficulties – such as the lack of good jobs – that many immigrants face in New Zealand. Alexander had come as an expat, having got a job as a sales manager in an American company based in New Zealand. So it wasn't like he had to struggle with the travails of job hunting, which can be a traumatic experience for many middle class immigrants.
But there are other concerns. On top of the list is their children's education. "Though the New Zealand education system has it pluses, the quality of Russian schooling is simply unmatched. Having experienced the Russian system, we are not happy with the education our children get here," says Olga, who graduated from the Khabarovsk State Academy of Economics and Law.
Nostalgia, however, led to enterprise. Two years ago, Olga set up the World of Dumplings in Wairau Park, Auckland. The company produces delicious Russian dumplings called pelmeni. "World of Dumplings began as a family business when we discovered that there were no businesses in New Zealand producing this wonderful food," says Olga. "A plate of pelmeni might not look like much to the untrained eye, but it forms the heart of Russian cuisine and culture. It's served in every Russian restaurant, cooked in homes across all of the country and every family likes to think it has its own special recipe."
The company began supplying dumplings to the Russian community and delicatessens in Auckland. It now employs three full time staff and can count leading supermarkets among its clients.
Running a company isn't an easy job in recession-hit New Zealand, especially when you have to look after two children as well. Olga and Alexander, therefore, have little time for leisure, which is kind of ironic because New Zealand's initial attraction was its laid back lifestyle. However, the family manages to explore the pristine countryside when time allows.
Overall, Olga, Alexander and the children remain in a positive mood. Russia is always tugging and the sense of having drifted from their beloved country is ever-present but they take it in their stride. "We have visited Russia twice and our parents and relatives have in turn come and stayed with us," she says. "If they could visit us more often it would be better."
Natalya and Denis Tikhonov: Thumbs down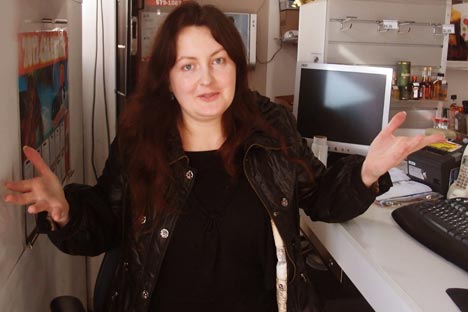 Natalya Tikhonova in her Auckalnd store. Source: Personal archive
While the Barbins are slowly settling in, another Russian couple, Natalya and Denis Tikhonov, are still going through the struggle phase. They come from a family of extremely high achievers – Natalya was a doctor back in Russia and her husband was an electromechanical engineer. Denis's father was a rear admiral in the Russian Navy.
For this family, New Zealand has been rather disappointing. They own a boutique liquor store called Salute, located near New Zealand's largest mall, in the North Shore, Auckland. Natalya, who runs the store most days, can't believe that she was good enough to be a doctor in an advanced country like Russia, but is not considered good enough to practise medicine in New Zealand, which is a dairy industry based economy. Because she juggles the store and household work, she can't spare the time, expense and energy to sit for the local qualification examination.
While Denis has found work in his own area it isn't anything close to what he was doing back in Russia. "He is desperate to return to Russia," says Tatyana. "We think of Russia a lot."
Like the Barbins, they too worry a lot about the education of their two children. "Though the kids go to a top decile school, the school hardly teaches," says Natalya. "Russian students in our children's age group are much ahead."
The Tikhonovs, therefore, supplement their children's schooling with maths and science text books sourced from Russia.
But what really upsets Natalya and Denis is the lack of cultural avenues in New Zealand. "From ballet to dramatics, from sports to leisure, there are an amazing number of activities for everyone in Russia," says Natalya. "We used to live a culturally enriching life, and that's something that's just not available here."
The Encyclopedia of New Zealand agrees: "Like earlier immigrants from Central and Eastern Europe, some late 20th century immigrants from Russia found New Zealand still a disconcertingly 'new' country and missed the museums, galleries, theatres and sense of history they had left behind."
The Tikhonovs have bought a nice home but haven't committed themselves to staying in New Zealand permanently, and will explore the possibility of returning to Russia once their two children are older.
Tatiana Baranova: Life's a breeze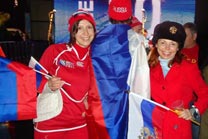 Tatiana and her friend Ina cheer the Russian team during the 2011 Rugby World Cup, at the Russian Club in Auckland
Tatiana Baranova loves to party – she's among the first to hit the dance floor at the Russian Club in the upmarket Auckland suburb of Newmarket. The professionally qualified seamstress from Moscow came to New Zealand, via India, under rather troubled circumstances. She was married to an airline pilot, who was half Indian and half New Zealander. Their marriage wasn't a smooth one and Tatiana never related to her husband's Punjabi culture.
In 2001, tragedy struck. The family was on holiday in Mumbai when their car was involved in a motor accident, leading to the death of their five-year-old son. Tatiana came to New Zealand with their other two children, Maria and Anatoly, now 18 and 15, to stay with her in-laws. It was meant to be a long holiday that would hopefully heal her terrible loss and sort out the issues affecting their marriage.
It turned out to be a life altering trip as Tatiana decided to stay on and applied for a work visa. She also achieved a clean break from her past and is now divorced. She earns enough to support her small family and has bought a house, with a swimming pool and barbeque courtyard, in a nice part of south Auckland.
Tatiana and her children love to dine out, go fishing with their Russian friends, party and are rarely at home on weekends. She is still single and appreciates the freedom that New Zealand has given her. "There is no baggage from the past here," she says. "And I don't want to get married again and go through a similar situation."
Looking forward
According to the website www.everyculture.com, among Americans of nine different backgrounds – English, Scottish, Welsh, German, Italian, Irish, French, and Polish – Russians between 25 and 34 had on average 16 years of education, while all others had at most only 12.8 years. This Russian obsession with advanced education is what makes them highly sought after immigrants in a number of countries.
In New Zealand, because of the dairy and agriculture-based economy, Russian immigrants with expertise in high technology and science remain under-utilised. (In 2006, there was the well-known case of an Aeroflot pilot driving a taxi in Auckland.) While this has reduced the number of Russian immigrants to a slow trickle, those who have braved it to the Southern Hemisphere are determined to make it big.
All rights reserved by Rossiyskaya Gazeta.