Russian reaction to same-sex marriage ruling in the USA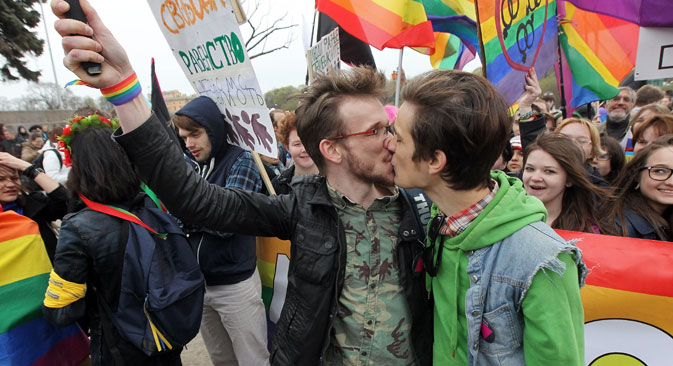 The state policy toward Russia's LGBT community has been consistently draconian in recent years, as a result of which the country has become the target of sustained criticism from Western governments and prominent supporters of gay rights. Source: Petr Kovalev / Interpress / TASS
On June 26, the U.S. Supreme Court ruled that same-sex marriages were legal on the whole territory of the country. The ruling generated a strong reaction Russia, with some conservative politicians slamming it, while some liberals voiced support for the U.S. and the global LGBT movement. Experts point out that the negative reaction from government representatives could be an attempt to play Russia's "spiritual confrontation" card with the West.
Last week's ruling by the U.S. Supreme Court to legalize same-sex marriages made an impression on more than just the American public: users all over the world took to the internet to express their attitude to gay marriages. On Facebook many Russian users updated their profile pictures with a tool putting a rainbow filter over them, in support of making same-sex marriages legal. Debates and arguments soon followed.
Critics of gay marriage
In Russia, the discussion spilled over from the internet and became a topic for politicians' comments. Vitaly Milonov, a member of the St Petersburg Legislative Assembly known for his homophobic statements, said in an interview with the Russian News Service radio station that he intended to ask the media-monitoring agency Roskomnadzor to block access to Facebook on Russia's territory. According to Milonov, having launched the tool to put a rainbow filter over profile pictures, Facebook has violated the Russian law banning the promotion of homosexuality among minors.
The Russian Orthodox Church also criticized the ruling by the U.S. Supreme Court. In an interview with the Interfax news agency, a prominent figure inside the church, Archpriest Vsevolod Chaplin, expressed concerns that America was trying to "impose its anti-natural and post-human view of marriage on other countries."
A different point of view
Criticism of the gay marriage ruling also came from many conservative commentators, as well as ordinary social network users. However, a different point of view was expressed as well. A large number of Russian internet users supported the Supreme Court ruling.
In particular, politician Leonid Volkov, a representative of the Democratic Coalition (a union of non-parliamentary liberal parties) and a close associate of opposition leader Alexey Navalny, wrote on his Facebook page: "Love is beautiful in all its manifestations, just as hatred is ugly in all of its appearances. Incidentally, I do not share the pessimism of those who say 'not in our lifetime' (will same-sex marriages become legal in Russia – RBTH). In America – which is far more conservative than Russia! – the whole process took about 20 years." Volkov was one of several public figures to put a rainbow filter over their profile picture.
Not all representatives of the authorities are uniform in their attitude to gay marriages either. Senator Konstantin Dobrynin from Arkhangelsk Region told Ekho Moskvy radio station that Russia should seek to reduce the level of aggression towards sexual minorities. He added that it was necessary to find a compromise and that lawmaking should take into account the interests of all Russians, both the LGBT community and conservatives alike.
Top-down conservatism
In an interview with RBTH, Valery Solovei, a political analyst and professor at the Moscow State Institute of International Relations, said the significance of this issue was being deliberately hyped up. "There would have been no reaction to that law had there not been an artificial hyping up, had not all media outlets been reporting it," says Solovei.
"This law is becoming a topic of public discussion only because of all this hype. With the exception of a small 'politically obsessed' section of the population, who make up no more than 5-7 percent, this law is of no interest to anybody."
Karina Pipia, a sociologist with the Levada Center polling agency and author of a report on homophobia in Russia, agrees with Solovei that the strong reaction from society, especially its conservative part, to the issue of same-sex marriages was primarily being promoted by the authorities. "Obviously, Russia and Western countries, including the U.S., are currently in a state of political confrontation," Pipia told RBTH.
"Russian politicians are trying to counterpose our 'conservative' values with those of the West, whom they accuse of eroding traditional morals. The general public is responsive to this kind of rhetoric. It is against this backdrop that homophobic sentiments are on the rise."
All rights reserved by Rossiyskaya Gazeta.