Round-Table for BRICS Youth at RCSC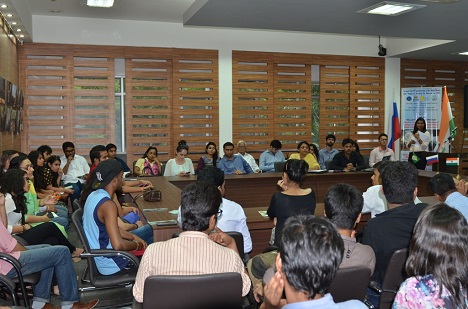 A Round Table "Policy and Plan of Action for BRICS Youth" was held on July 3, 2015 in New Delhi. Source: RIR
The RCSC and Federation of Youth Clubs conducted a round-table meeting in New Delhi to chart the course ahead for collaboration among youth from BRICS nations.
The International Federation of Indo Russian Youth Clubs (IFIRYC) and the Russian Centre of Science and Culture (RCSC) organised a Round Table "Policy and Plan of Action for BRICS Youth" on July 3, 2015 in New Delhi. Aimed at charting the way forward for the BRICS Forum on Youth Affairs, the event was dedicated to the 30th Anniversary of the World Youth and Students Festival held in Moscow in 1985.
Members from civil society, heads of Public organisations and students from Jawaharlal Nehru University, Delhi University, Jamia Milia Islamia and Amity University, who have associated with the BRICS Forum as interns and delegates, attended.
Discussions focused on formulating plans on possible collaboration between BRICS nations in sectors like education, entrepreneurship, skill development, tourism, research & development, innovation, training & awareness, youth affairs, media, culture, business opportunities and employment and humanitarian fields.
Arseny Starkov, Chief consultant, RCSC, spoke on youth festivals and upcoming BRICS events. He referred to the laudable efforts of the IFIRYC to successfully harness the creativity of the youth in unique nation-building activities. He also stressed on generating mutual understanding and cordiality among the youths of BRICS nations.
Student delegates spoke of collaborating and interacting with college students through their registered college Networking cells and organisations that offer internship programmes to students. Short films could be made about the BRICS IF and shown during various college festivals. Students offered to work on research papers on topics pertinent to BRICS nations as a means to add to the BRICS International Forum (BIF) knowledge bank.
A film on the 1985 Moscow World Youth and Students Festival by Mohammad Akil, student of the Institute of Russian Language, and a presentation on BIF activities by Purnima Anand, President of IFIRYC was presented.
Manish Dabas, who recently returned from the Euro-BRICS conference held in Helsinki and St. Petersburg, shared his experiences of the Summit and highlighted resolutions adopted during the meetings. Malvika Shastri gave a presentation on the history of BRICS Summits and spoke about the BRICS New Development Bank. Karan Chauhan spoke of the BIF initiative adopted in January, to organize a BRICS Youth conference at Kazan. Under the joint collaboration between the Russian Federal Agency on Youth Affairs and the Indian Ministry of Sports and Youth Affairs, delegates from India are participating in the BRICS Youth Summit at Kazan from 3-7 July, 2015.
Tatiana Seliverstova, Director, Department of International Relations of Russian Union of Youth, who joined the discussion through video conference from Russia, appreciated the efforts of IFIRYC and RCSC to carry the BRICS International Youth Forum (BIYF) agenda forward.
B.B.L. Madhukar, General Secretary of BRICS Chamber of Commerce and Industries, described the potential of youth to lead the countries to great prosperity. Appreciating efforts of the IFIRYC and RCSC, he assured support for BIYF's success.
Romesh Razdan, an energy specialist, spoke of student exchanges and projects with different nations, and urged delegates to acknowledge the spirit of friendship between India and Russia.
Anand urged delegates to remain connected BIF and digitally share ideas to pave the way forward. She also introduced Malvika Shastri and Ganita Bhupal for being selected to attend the First BRICS & SCO International Youth Forum conference to be held in July at Ufa, Russia.
All rights reserved by Rossiyskaya Gazeta.