The dangers of narcissism: Leaflet tells Russians how to take safe selfies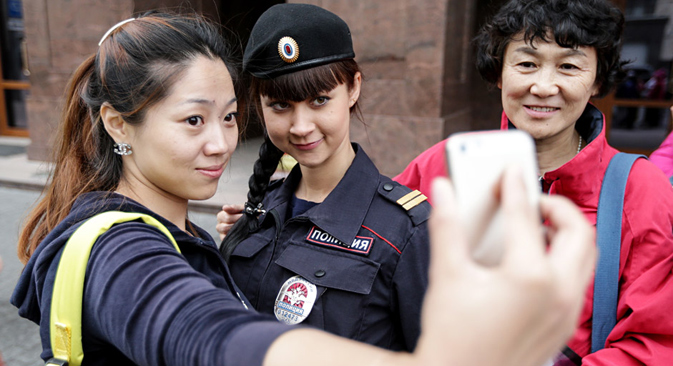 Tourists making selfy with an employee of the tourist police in Moscow. Source: TASS
Russia's Interior Ministry has issued a leaflet for fans of taking "selfies" – self-portraits taken with smartphone cameras. The recommendations are being released after a number of recent accidents in which young people have been seriously injured or killed while trying to take a picture of themselves.
The Russian Interior Ministry has issued a notice on how to take safe selfies following a series of reports of accidents suffered by Russians during attempts to photograph themselves that have appeared in the media lately. The leaflet, "Safe Selfie," is intended to draw the attention of the public, primarily that of young people, to this issue.
"We have tried to visualize, in the form of icons, the most dangerous cases of taking selfies to warn citizens away from undue risk for a memorable shot," said the report, published on the Interior Ministry's website.
The ministry says that life and health are more important than a million likes on social networks. The danger of selfies is that a person becomes distracted, loses their balance, does not look around and does not sense the danger.
"Take selfies after making sure that you are in a safe place and your life is not in danger!" the Interior Ministry warns.
The leaflet consists of two pages. It is not recommended to take selfies on railroad tracks or on water, with animals, on the roofs of buildings, on top of train cars, while holding weapons, or while driving.
Each tip is accompanied with an icon in the form of a prohibition sign and caption (in the style of Soviet posters warning people from walking on the railway tracks) – for example, "A selfie on the road – you'll have no time to click," "A selfie while driving can make your road much shorter," and so on.
According to the Ministry, more than 100 people have been injured and about 10 people killed while trying to take a photo of themselves since the beginning of the year.
For instance, on May 21, a 17-year-old was hospitalized with a fractured skull in the district of Ramenskoye in the Moscow Region after climbing onto concrete blocks, clutching live wires and falling due to an electric shock in an attempt to take a selfie.
On the same day in Moscow, a 21-year-old woman accidentally shot herself in the head and died while posing for a self-portrait with a pistol. On the night of July 4, another young woman died after falling from a 10-meter-high bridge near Testovskaya Street in Moscow while posing for a selfie.
All rights reserved by Rossiyskaya Gazeta.