70 percent of Russians opposed to compromise on sanctions – report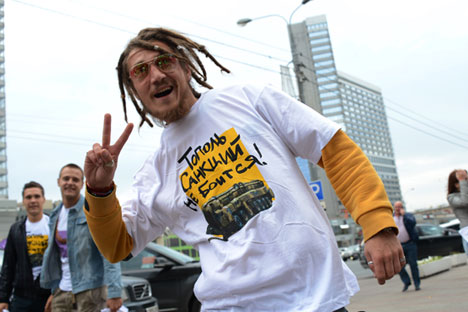 Action 'Fashions' answer: No to the Sanctions!' in Moscow, September 23, 2014. Source: Yekaterina Chesnokova / RIA Novosti
According to a new Levada Center opinion poll, 70 percent of Russian citizens believe that Russia should not make any sanctions-related concessions, even though a third of the population has admitted that sanctions are a problem. However, despite these difficulties, Russians continue to back President Vladimir Putin, whose popularity rating has never been higher. Experts have several theories for why Putin's rating remains buoyant in spite of citizens' growing dissatisfaction.
According to a Levada Center survey taken in June, 70 percent of Russians believe that the country should not make any compromises because of the sanctions imposed by the West over Moscow's role in the Ukrainian conflict. Just 20 percent of those polled said that Russia "should look for a compromise and make concessions in order to have the sanctions lifted."
Yet despite this outward defiance, sociologists say that a third of the population is experiencing difficulties due to the sanctions, although paradoxically this does not seem to be having an effect on the popularity rating of Russian President Vladimir Putin, which recently reached a record 89 percent.
Heads in the sand
In reality, the number of those who approve of the government's defiant stance on Western sanctions and those who believe that Russia should adhere to its policy on eastern Ukraine and Crimea is stable, having grown by 1 percent since January 2015 and 2 percent since September 2014. The percentage of those who want Russia to find a compromise is also stable. What is certainly changing, said Natalya Zorkaya, director of the socio-political research department at Levada Center, is the fact that society is experiencing increasing fear about the future, fear of a military invasion and uncertainty in the present. "We can see this in our other surveys," said Zorkaya. "Sixty percent of respondents are anxious about their future." According to Levada, the result of this is that people "are refusing to try and influence anything in the country."
"This is the decision of the ostrich – to stick your head in the sand in times of danger," said Konstantin Kalachev, director of the Political Expert Group. "The people have delegated the power to think to the president, since up to now he has met their expectations: For all these years, material wellbeing has been growing and new-old territories have been reacquired." As a result, the sanctions that were supposed to undermine Russians' trust of Putin have for now only succeeded in evoking the contrary reaction – the rallying of citizens behind their national leader, explained Leonid Polyakov, a Kremlin loyalist and professor in political science at the Higher School of Economics in Moscow . "And this is despite the fact that a significant part of the Russian population is indeed feeling the effect of Western sanctions."
A question of perception
Experts interviewed by RBTH agree that for now the problems related to the sanctions can be presented as the hostility of a foreign enemy and they are thus perceived as the price of national dignity. In fact, according to Mikhail Korostikov, an analyst from the independent sociological center Laboratoriya Kryshtanovskoi, "ordinary Russians are not suffering from the sanctions, they are suffering from the countersanctions. But probably in their minds the difference has been erased, which is why they support the tough line."
Korostikov pointed out that it is also relevant that more than 70 percent of Russians do not have a passport to travel abroad and about the same percentage do not have any savings, meaning the devaluation of the ruble has not affected them. The desire among Russians to take revenge (38 percent of respondents to the Levada poll were in favour of tough retaliatory sanctions) is a result of seeing how Russia is represented in the West. "Now it is being lumped in with Islamic State and the Ebola virus. This cannot but anger Russians. Therefore the retaliatory reaction is considered entirely justified," said Korostikov. "In essence, this is not a survey of social opinion, but of what people have been watching on television lately."
However, observers say that the 70-percent figure should be approached with caution – the percentage of Russians who believe that the country should not make any compromises. As Konstantin Kalachev pointed out, the Levada poll was a quantitative survey in which people responded reflexively to simple questions about Russia's policy – "yes, no, I don't know." "But if those same people are asked how they feel, for example, if Russia does not have Japanese pampers or German medicine, then the percentage will be completely different," said Kalachev.
'The most important thing is that it doesn't get any worse'
According to Leonid Polyakov, now that the citizens have endowed their president with an enormous credit of trust, Vladmir Putin has substantial room for carrying out unpopular reforms, such as the increase of the retirement age and adopting a tougher policy toward state monopolies. The thesis that "Putin's high rating is a moment for reforms" has been voiced by Alexander Brechalov, co-chairman of the Central Headquarters of the All-Russia People's Front (a social-political organization that Putin established in 2011), as well as by former Russian Finance Minister Alexei Kudrin.
But experts are convinced that society does not want any reforms. "On the contrary, people are worried about the reforms, they are afraid of a new perestroika," said Konstantin Kalachev. "Even if the president does not meet all the expectations, his rating will not fall. As long as people can still compare Putin to Yeltsin, to the situation of the 1990s, there is nothing to worry about."
Kalachev's opinion is one shared by Mikhail Korostikov. "Considering that the key word in all of Putin's presidency has been 'stability,' I doubt that the population is expecting him to carry out reforms," he said. "The most important thing is that it doesn't get any worse."
All rights reserved by Rossiyskaya Gazeta.