Russia establishes new international student association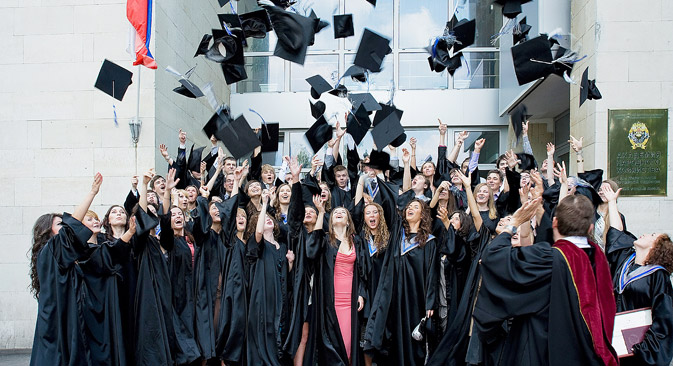 The World Foreign University Student Association has one and a half million potential members. Source: Kommersant
The World Foreign University Student Association will unite graduates of Soviet and Russian universities.
A new global student association has been established in Russia with the aim of uniting several million people who graduated from Soviet and Russian universities.
The World Foreign University Student Association was officially presented at the Forum of Foreign University Students, which was launched at the Peoples' Friendship University of Russia (PFUR) on July 30 with support from Rossotrudnichesvo and the Russian Foreign Ministry.
The forum was attended by almost 300 of this year's graduates from 40 different Russian universities.
"The association now has one and a half million potential members," said Khatib Samir, head of the Israeli association of Russian university graduates. "This could become the most active association in the world. It will have social, cultural and, I underline, political objectives."
According to Rector of the PFUR Vladimir Filipov, the idea of uniting the graduates was supported by the Russian Foreign Ministry and personally by Foreign Minister Sergei Lavrov.
"The knowledge of Russian organizations and individuals is your competitive edge," the rector told the graduates. "You know the Russian language and customs."
"Russia is proud of its centuries-long experience in the peaceful coexistence of various peoples and religions. Freedom, responsibility and our other traditional values have formed our moral-ethical denominator. And our graduates' mission is to spread it far beyond the borders of Russia," said Director of the Department of Humanitarian Cooperation and Human Rights at the Foreign Ministry Anatoly Viktorov.
In turn, member of the Russian Civic Chamber Sangadzhi Tarbayev said that the association will seek serious privileges for its members.
"It is worth thinking about the introduction of a simplified process for residence permits or even the issuance of citizenship for graduates of Russian universities," he said.
During the event, high-ranking former graduates demonstrated an understanding of the Russian world.
"We are all now patriots of the Russian Federation," said Benin's Ambassador to Russia and the CIS Gabriel Kochofa. "It is necessary to educate graduates who when returning to their countries will develop their ties with Russia, [who] will be loyal to their second homeland."
"We consider ourselves a part of the Russian world," stated President of the Russian Association of Foreign Students Yao Adu. "We bring Russian culture to the attention of other countries, which is why often we are misunderstood in the world."
First published in Russian in Kommersant.
All rights reserved by Rossiyskaya Gazeta.