Pilgrims from Russia readying for the Hajj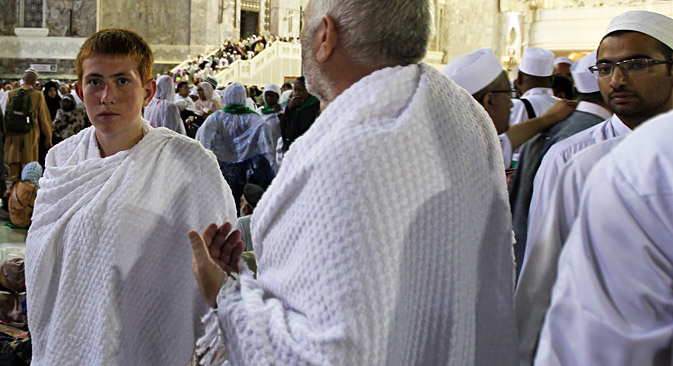 A Muslim Pilgrim from Russia (L) looks on as he prepares to leave with his family after the last prayer of the day near the Great Mosque of the Haram Sharif, few days before the Muslim's Hajj Pilgrimage in Mecca, Saudi Arabia
EPA
An estimated 17,000 Russian Muslims will go to the cities of Mecca and Medina this year to perform the Hajj. Dagestan, Chechnya and Ingushetia send the largest number of Russian pilgrims to Mecca and Medina. Russian Muslims tend to find the pilgrimage more physically and mentally challenging than Indonesians, Malaysians and Iranians.
The Russian Hajj Committee has begun accepting applications from the Muslims in the country for the annual pilgrimage to Mecca and Medina.
According to Rushan Abbyasov, first deputy chairman of the Council of Muftis of Russia, the internal republics in the North Caucasus, like Dagestan, Chechnya and Ingushetia, send the largest number of pilgrims from Russia to Saudi Arabia. A significant number of pilgrims also go from Tatarstan, he said, while there are some groups from Siberia and the Russian Far East to seek to perform the Hajj pilgrimage in Saudi Arabia.
The Muslim holy sites have become more accessible to Russians after 'Perestroika'. While pilgrims from Russia are aware of the hardships of undertaking the pilgrimage, they still find the trip physically and mentally challenging, said Rashid Al-Rashid, who works at the Russian Hajj mission.
"The Russians are not as well prepared as pilgrims from Indonesia, Malaysia, Turkey or Iran," said Al-Rashid, who has been accompanying pilgrims to Saudi Arabia for more than 15 years. He says the hot weather and large crowds tend to overwhelm Russian pilgrims. They also take time to adjust to the Arab cuisine.
Increasing costs
The pilgrimage has become prohibitively expensive for many Russians this year after the ruble depreciated. The cost of a package tour has doubled this year and can be as expensive as $5000, which is around half a year's salary in some regions.
"A couple of years ago, we had a long list of people willing to go, but this year, we had to run publicity campaigns to attract people," said Syed Muhammad from the Medina Travel agency.
However, despite the drop in demand, the Hajj mission of Russia has requested the Saudi Arabian authorities to increase the Russian quota from 16,400 to 17,000. This is to accommodate the Crimean Tatars, who would travel on Ukrainian passports earlier, but have now become Russian citizens.
According to the last census (taken in 2010), there are around 14.5 million Muslims in Russia, forming around 10 percent of the country's population. Immigration from former Soviet republics has pushed the numbers up over the last few years, although there are no updated exact official statistics available at the moment.
All rights reserved by Rossiyskaya Gazeta.