Scot travels from London to St. Petersburg by bicycle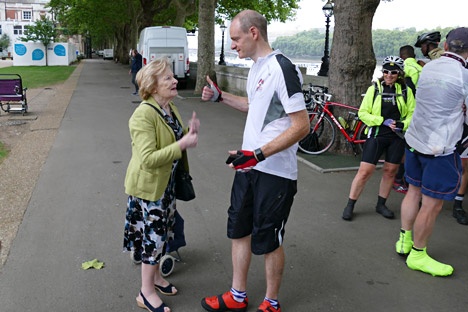 Gavin Tiffin before the start. Source: Eugene Kasevin
Gavin Tiffin's journey is dedicated to the 70th anniversary of the Allied victory in WW II.
Scottish amateur cyclist and runner Gavin Tiffin is planning to embark on a 2,000-mile journey by bicycle from London to St. Petersburg to mark the 70th anniversary of the Allied victory in World War Two.
On his route, which Tiffin has christened The Cultural Cycle, the Scot plans to cross the borders of 10 countries, with stops in 24 cities.
"I will take this opportunity to remember some of the brave people who served to protect us all those years ago," reads a statement by Tiffin on the official website of the project theculturalcycle.org.
"My grandfather served in [the] Navy and saw action in the Arctic Convoys, having recently been awarded his Arctic Star. St. Petersburg is the home of [the] Navy in Russia, and it is my way to pay tribute to the man I never had the honor of meeting."
Source: Eugene Kasevin & RBTH
This is not the first time the Scot is participating in a long-distance rally. In 2012, he supported the philanthropist David Dean in his running tour round London's major hospitals, covering over 60 miles in 12 hours. In 2013 he rode 300 miles from London to Paris alone by bicycle in three days, and in 2014 he undertook the Biel Ultramarathon, running 100 km (62 miles) overnight in Switzerland.
But the main goal of his latest adventure is not a new personal record, but the possibility to raise money for the rehabilitation of children with serious illnesses.
"The money raised will enable us to help hundreds of very unwell patients and their families – children and adults, in their beds, wheelchairs, on drips and oxygen – feel better with film this year," says to RBTH Kat Mason, head of the MediCinema charity organization.
"I hope that Gavin will be able to initiate a live link between London's Evelina Children's Hospital and the Children's Hospital No.1 of St. Petersburg, which we will visit together on Sept. 4", said Eugene Kasevin, the organizer of Victory Day London, a project that has organized the celebration of May 9 (Victory Day in Russia) in the British capital since 2007.