Londongrad: Russian TV drama depicts British capital through the eyes of expats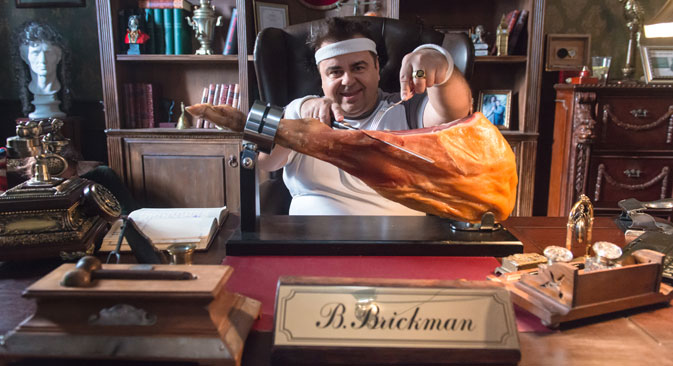 A screenshot from Londongrad TV series. Source: CTC / press photo
The British capital gets the Russian treatment and Wikipedia comes under pressure. A look at what Russian and UK media covered last week.
This September Russian TV channel CTC is presenting a new comedy series Londongrad. The drama focuses on three main characters – bright ex-mathematician Misha, Moscow official's daughter Alisa and inscrutable Lada-driver Stepan, offering an unconventional glimpse into the lives of Russians in London.
Londongrad

The Guardian's Shaun Walker goes into detail describing the characters of the series and the plot centered around Londongrad, an agency set up to troubleshoot problems for rich Russians in London. "Exiled or emigrated from the motherland, they are not quite at home in London either," Walker notes. Londongrad might be fictional, but similar agencies do indeed exist - from finding the best school for oligarchs' kids, to booking a table in the most fashionable restaurant, concierge agencies offer a wide range of services to London's cash-rich newcomers.
A clip for Londongrad by Russian rapper Oxxxymiron. Source: Youtube / СТС
Yet, it's not all oligarchs and supermodels in London's Russian population, which now numbers around 150,000. Michael Idov, series lead writer explains that one of the main goals was to get away from rehashing easy stereotypes, and to both engage those ubiquitous "Russian London" caricatures and to keep them at an arm's length. "If anything, this is a show about a slightly fictionalized London — imagined here as a city of adventurers, hustlers and grifters — seen from a fresh perspective," Idov explains.
In recent years, London has become a subject of growing attention and sometimes even idolization among certain Russians, particularly the younger generation. The home of Big Ben, Harry Potter, and Benedict Cumberbatch, London is almost a fictional character in itself. What image of the city will be presented to Russian audience? "London of Londongrad is a slightly 'heightened' construct, like the Las Vegas of the Ocean's Eleven films: it's a bit more glamorous, a bit sillier, and a bit more dangerous, than my own experience suggests. But hey, that's what television is for," says Idov.
Orthodox intolerance
"It would be a very nice side effect if it [Londongrad] could remind Russians that the west is not populated by dog-headed monsters", Idov tells the Guardian, yet it is regrettable that the show is aimed at a Russian audience only: arguably, British viewers presented with a new image of Russians and their own city as seen by foreigners could learn just as much.
One of last week's unpleasant incidents earned a few headlines in the British newspapers, as ultra-Orthodox activists attacked and damaged the artworks by Soviet non-conformist artist Vadim Sidur exhibited in Moscow's Manezh. The God's Will group found the artworks in question offensive to Christian worshippers and chose a way of expressing that similar to that of Islamist extremists in Iraq and Syria.
Orthodox "activism" is a rather new sociopolitical phenomenon in Russia, raising concerns for the rest of the, mostly secular, population.
A past apathy towards the world order now seems to have flipped into a heightened interest in sociopolitical matters. Orthodox Christians ready to fight for the preservation of Russia's traditional values with sword and shield is an image no less disquieting than the Islamic State's theatrically abhorrent treatment of cultural artifacts in Palmyra.
Goodbye, Wiki?
The fewer actual artworks to see, the more we'll have to refer to online resources to learn about artists such as Sidur: Wikipedia's page, for example, could provide a lot of quick answers – if you can still use it, that is.
The Russian government has threatened to ban Wikipedia in Russia, reports this week's Independent. At issue is a page explaining charas, a type of cannabis. Media watchdog Roskomnadzor wrote to Wikipedia saying it would ban the website unless the entry, which basically provides a recipe for the recreational drug, was removed. Wikipedia's security system does not allow individual pages to be restricted, risking the blocking of the entire site. Ironically in that case, even a page entitled 'Internet censorship in Russia' would cease to be available. Wikipedia observed the letter of the law - by changing the URL for the site, but the article remains available - simply under a different address.
Elsewhere on the net, Google and WhatsApp have been accused of posing "a serious threat" to the Russian state: Nikolai Patrushev of the Kremlin's Security Council suggested that government officials should be punished for using non-Russian internet and messaging services. He says these can be tracked by foreign intelligence agencies and pose a threat to Russia's security. Homegrown alternatives should be used instead, and if they don't yet exist they have to be created. Patrushev also noted a growing number of hacking attempts aimed at government information and telecommunication systems, Kommersant reports.